Ontario is definitely one of the best places to live in Canada. Whether you are a newcomer to Kingston or already a long-time resident, you'll find plenty of amazing home deals with the right real estate agent.
The Province of Ontario captured 40% of the rankings for Best Places to Live in Canada in 2017 by MoneySense Magazine. Kingston is among the top 50 Best Cities Across Canada.
With unemployment rates at a low 5.34%, average household income of $71,011, Kingston is an ideal choice for any Canadian thinking of buying a home and raising a family in Ontario.
Kingston offers abundant choices in new and resale housing at very attractive prices.
An experienced Kingston real estate agent can help you find your dream home for the right price.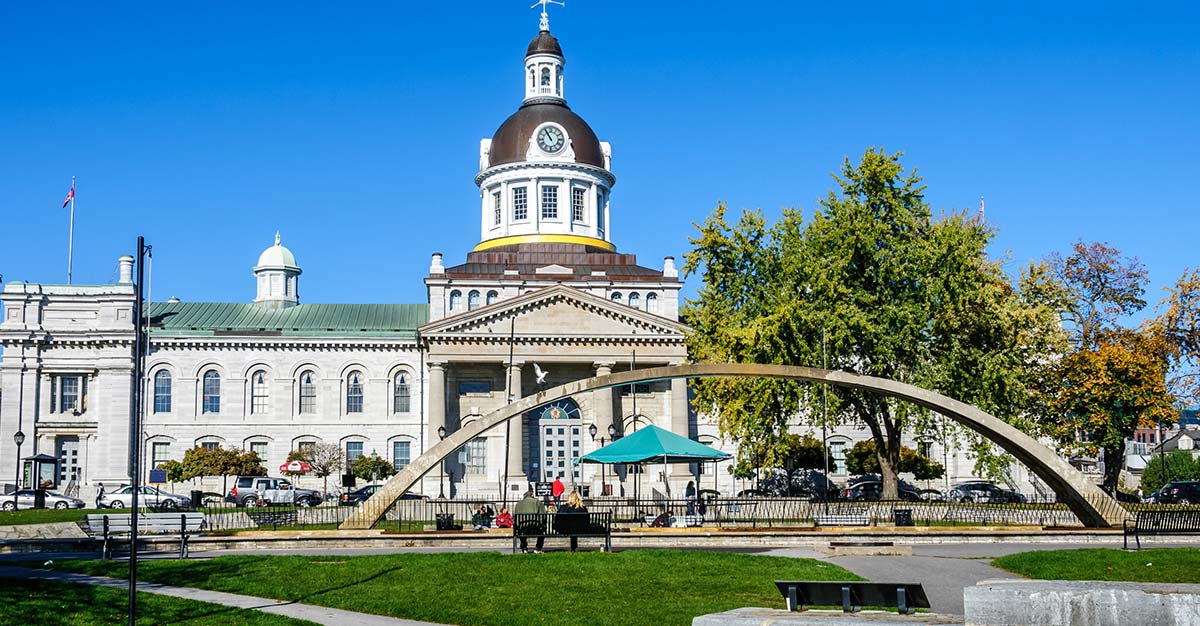 Why Buy a House in Kingston, Ontario?
As a city, Kingston has many strong assets – high quality of life, lower cost of living, beautiful natural landscapes, and excellent healthcare.  These factors make Kingston a popular choice for families and for retirees.
Kingston offers home buyers so many benefits that are hard to find elsewhere.  It is conveniently located between Montreal and Toronto. It has 3 specialized hospitals providing excellent access to healthcare.
Also known as Canada's fresh water sailing capital, it provides fabulous water sports activities including diving.
Kingston Real Estate Market Data
Best of all, home prices in Kingston remain affordable. According to Kingston and Area Real Estate Association (KAREA), the median home price as of October 2017 is $323,566.  This is an increase of 6.5% compared to the same period in 2016.
Generally, cities close to expensive cities like Toronto also see a lot of market activity from home buyers who are looking for affordability and more space.  In October this year, 397 new listings were recorded in the MLS, the least supply in October in the last 10 years.  There were 275 properties sold through the MLS in October.
With limited supply in Kingston, home buyers can ensure success in finding the right home to buy within their budget by working with an experienced Kingston real estate broker.
Choosing Between Resale Homes or New Build
As a home buyer, you can choose between newly built homes or resale homes.
Majority of homes listed for sale are resale homes. Both types offer pros and cons and being informed about these will help you to compare and arrive at the best decision.
Resale Homes Cost Less
Generally, resale homes cost less than newly-built homes.  One advantage is that resale homes are usually located in well-established neighborhoods with an established community.
New Homes Are Modern in Design
Only a quarter of home buyers choose newly built homes.  They are usually more expensive. One important advantage from new builds is more modern designs and more choices for future upgrades.
Downtown Condos in Kingston
Condos are also becoming popular as a choice for home buyers. The city offers a wide range of condo options including townhouses and waterfront properties.  You can find downtown Kingston condominiums for sale within walking distance to Kingston General Hospital or Queen's University.  Learn more about owning a condo in Ontario.
Whichever you choose, never underestimate the importance of obtaining a home inspection.  Work with a Kingston real estate agent to identify the best properties within your budget and preferred neighborhoods.
10 Extra Costs for Buying a House in Kingston you Should Know
Home buyers can get so excited about buying a new home and completely forget about extra charges associated with the purchase.  Buyers are often concerned only with the home price.  If you have a real estate agent working for you, he will make sure to inform you about these additional costs.
It is important to be aware of the complete financial requirements for your purchase to make sure you buy a home that is within your budget.
1. Appraisal Fee
A lender will most likely charge an appraisal fee when you apply for a mortgage.  Appraisal fees cost from $200-$300.
2. Survey Fees
If you are buying a resale, your lender could ask for an updated property survey.  Depending on the property's size, the survey fee could be $1,000 to $1,500.
3. Property Tax
You need to pay property tax based. The amount may be included by your lender in your monthly mortgage or not.  It is best to be prepared in case you have to pay the tax separately.
4. Land Transfer Tax
This tax is charged when a property's ownership is transferred.  If your new home costs $300,000, land transfer tax could amount to $2,975.
In Ontario, first-time buyers, whether new or resale, are qualified for provincial tax rebates of up to $2,000.
5. Legal Fees
It is to your best interests to hire a real estate lawyer to review the contract and other paperwork related to the transaction.  A good real estate agent can refer you to a good lawyer that suits your budget.
6. Home Inspection
A home inspection is critical, even for a brand-new home.  It needs to be done before you make an offer to buy a house. The report will inform you about the actual condition of the home and any potential issues which you can negotiate with the seller. Your real estate agent will know how to successfully negotiate the price with the seller so you don't end up overpaying for a house.
Depending on the size of the property, a home inspection could cost from $300 + HST (price increases with square footage).  Make sure to enlist the services of a home inspector registered with the Ontario Association of Home Inspectors.
7. Mortgage Insurance
If you are paying a down-payment of less than 20% of the purchase price, you are required to obtain a mortgage insurance.  The amount could be included by your lender in your monthly mortgage payments.
8. Mortgage Broker Fees
If you work with a mortgage broker to help you find the best home financing, you may be charged a fee for the service.  Some brokers, however, don't charge for their services as the expense is shouldered by the lending institution.
9. General Services
Don't forget you'll need to pay for installation of your utilities – internet, telephone, electricity, etc.
10. Moving Costs
Moving to your new home will require moving services, whether DIY or professional.  The cost for moving depends on the distance of your move and the volume of your household goods.
An experienced real estate agent will be happy to help you with questions regarding the above requirements.  He can refer you to reliable real estate professionals like home inspectors, lawyers, and mortgage lenders.
Want to know how much you can afford to pay for a house? Learn how to prepare for a home purchase in Kingston.
First-Time Home Buyers' Incentive: Home Ownership Made Easy
If you are worried about the down-payment needed for purchasing your first home, here is a great tip.
The Home Buyers' Plan, or HBP, is a federal program that helps first-time homebuyers buy a home.  You can use your RRSP for purchasing or building a first home.
The money used through the HBP is a zero-interest loan that can be repaid within 15 years. This can help home buyers reduce their mortgage, lower interest payments, and even eliminate the need for mortgage insurance.
While the maximum amount of withdrawal is set at $25,000, the money can greatly contribute towards making the down-payment or paying for costs associated with the purchase of a first home.
Find out how you can participate in the Home Buyers' Plan to help you buy your first home in Kingston.
Top Neighborhoods to Buy a House in Kingston
Kingston is among the Best Places to Live in Canada. Year after year, move-over buyers from nearby cities like Toronto arrive in Kingston to take advantage of lower housing prices, high quality of life, and many of life's simple pleasures.
The city has many diverse neighborhoods. Choose a reputable Kingston real estate broker to help you find the perfect home and answer any questions you may have.
Below are top neighborhoods in Kingston for your consideration.
| | |
| --- | --- |
| Neighborhood | Description |
| Alwington | One of the oldest in the city, it is also Kingston's wealthiest neighborhood.  Small and exclusive, it features many beautifully-landscaped homes.  Located west of the city's downtown, it also offers residents scenic views of the water. The area has single-detached homes, row houses, and apartment complexes. |
| Inner Harbour | This neighborhood features many residential types together with 19th century heritage buildings.  It is highly-populated and has been rejuvenated recently. You can find townhouses, apartments, and single-detached homes offered to suit varying tastes and budgets. |
| Henderson | This neighborhood has many amenities in terms of shops, schools, parks and public transportation.  It is a family-friendly community with charm and lots of character. |
| Kingston East | This neighborhood offers easy access to the Canadian Forces Base in Kingston.  It is a growing community with easy access to schools and stores. |
| Bayridge East | This neighborhood has very good public transport options.  Residents enjoy access to parks and good schools.  Most homes are single-detached and owned. |
| Bayridge West | This neighborhood is a mixture of old and new residences.  Part of it sits on a hill, affording it a scenic view of Collins Bay. |
| Portsmouth | Being minutes away from downtown Kingston is just one of the many benefits offered by this neighborhood.  Quaint and charming, the area has single-detached houses and duplexes.   It is an old neighborhood with a lot of history evident in its surroundings. |
| Gardiners- Meadowbrook | This pretty neighborhood has good public transportation. It is good for families and has a large park and recreation center. |
| Cataraqui North | This community features Walnut Grove, an adult community mostly for seniors interested in a suburban lifestyle.  There are single-detached houses, semi-detached homes, and townhouses with modern amenities. Homes in the area are in the range of $250,000 and up. |
| Williamsville | This neighborhood is in close proximity to the downtown area.  Most of the homes here were built in the 1980s but recently, new developments are being added.  It is popular among young home buyers and has easy access to Kingston's waterfront. |
| Strathcona | This family-oriented neighborhood offers fine living with modern amenities and open spaces.  It has a private school, Quintlian Private School of Kingston. |
| Queens | This vibrant and attractive neighborhood features single-family homes with very good transit options to the downtown area. Close to Queen's University and Kingston General Hospital. |
These are but a few of the many fantastic neighborhoods in Kingston for home buyers.  Talk to a Kingston real estate broker to help you find the right home in your price range and negotiate the best purchase price.
Work with a Real Estate Agent to Sell your Kingston Property
As a home seller, you are surely anxious about how fast you can sell your house and how much your home is worth.
The good news is that a good Kingston real estate agent will be knowledgeable about pricing a property in Kingston based on market value as well as the average days on market.
According to Kingston and Area Real Estate Association, the average number of days on market for single-detached houses in the 3rd quarter of 2017 is 28 days.  This is a significant improvement to 48 days recorded in the same period of 2016.
Of course, this is good news for home sellers in Kingston, as it shows a more robust market activity.  But this also means competition among home sellers is stiff and it is even more critical now to find potential buyers for your house fast.
Real Estate Agents Market Homes for Sale Aggressively
Experienced real estate agents in Kingston know the right marketing strategies to sell your house aggressively.  You may see invitations to sell your home commission-free but keep in mind, you will be doing all the work if you decide to sell your house on your own.
If you have no experience in marketing a property to potential buyers or how to price your house accurately, your house could languish in the market and cost you thousands of dollars.
Today, home sellers have a variety of options when it comes to selling a house.  It is to your advantage to know your options and learn the steps to successfully selling a house.
Why You Need a Real Estate Agent to Sell your House
Are you thinking of going the FSBO route to save on commission costs?
Before you commit yourself to this endeavor, ask yourself these very critical questions.
✓ Can you devote all your time to your real estate transaction?
✓ Are you skilled at answering buyers' questions and negotiating with potential buyers to get the best price for your house?
✓ Do you know the most effective marketing tools and strategies for selling real estate in Kingston?
✓ Can you afford not to sell your house quickly?
If you answer NO to even just one of these questions, you may want to seriously consider hiring the best real estate agent.
Is paying an agent's commission worth it?
While it is true that a real estate agent's commission rate in Kingston is, on average, 5% of the selling cost, this amount does not go solely to the selling agent.  There is also no fixed percentage as commissions are considered negotiable.
The selling agent also splits this amount with the home buyer's real estate agent. He  will also pay for communication and transportation costs, marketing costs, and other incidental expenses until your property sells.
While you can sell your house and save the selling agent's commission, most buyers have a buyer's agent. If you don't offer a commission, those buyers under contract with a broker won't see or make an offer for your property.
Here is a great question. Isn't it worth it if your real estate agent can sell your house faster, at a higher price, and without any work on your part?
Top Kingston Real Estate Agents Bid for your Real Estate Transaction
The most wonderful thing about comparing real estate agents is that top Kingston real estate agents bid for your real estate transaction.
Because they want to get the job, they will offer the lowest possible commissions and design a selling strategy that works to your best advantage.
By receiving free real estate proposals from 3 top Kingston real estate agents, you have the perfect opportunity to compare, study, and choose the right person for the job.
As a home seller, your topmost priority is to find a real estate agent that knows the neighborhoods of Kingston where you want to buy a house and can help you negotiate the best home price.
Fill-out our quick online request form today and receive bids from experienced and reliable real estate agents and brokers in Kingston.