Find a Real Estate Agent to sell a home easily
---
You want more than just to sell your home. You want to stand out, get a better price, find many buyers, feel supported, and have convincing showings.
A Real Estate Agent helps you do all that. You can have an edge over other sellers and come out a winner.
Compare Real Estate Agents allows you to compare offers of real estate Real Estate Agents and find an ideal partner easily.
Complete the form and you will receive 3 free proposals to choose your Real Estate Agent.
Having a good Real Estate Agent is like taking advantage of the advice of a specialist in what could prove to be the most important business undertaking of your life!
---
Why hire a real estate Real Estate Agent to sell a property in Quebec?
Find a real estate Real Estate Agent for support throughout the process
From the moment you call on him to sell your property, a real estate broker will take care to promote, and even defend your interests, if necessary. He will represent you until you sign the deed of sale.
Compare Real Estate Agents for concrete actions leading to a secure business transaction
A qualified professional real estate broker will take concrete actions to ensure your financial security. A real estate broker is in the best position to assist you in your project because he:
Will provide you with the relevant information, and
Will advise you in the choices you will need to make in order to:

Anticipate difficulties and obstacles
Optimize your business transaction
You will benefit from his objective and fair assessment of the situation.
Find a real estate real estate broker who knows and controls the workings of real estate
A real estate transaction requires a lot of skills. To help you close the sale or purchase with success, real estate agents provide you with benefits from:
Training received and kept up-to-date ; as well as
The experience they have acquired.
Compare Real Estate Agents for a fruitful collaboration
The seller's real estate agent and that of the buyer are trained to collaborate with each other. They have an obligation to work together for the success of the proposed sale.
Compare Real Estate Agents allows you to contact a minimum of three (3) Real Estate Agents in one request. It's free and fast!
---
10 Tips for Finding a Good Real Estate Agent
The sale and purchase of a property is complex. That's why majority of people decide to get help in order to be a winner in every way. But how do you choose a trusted real estate broker who will know how to help you? What criteria should be used?
1. Choose a realtor based on his ability to negotiate.
An interesting way to gauge the ability of a real estate agent to negotiate is when he is negotiating his commission with you.
2. Choose your real estate broker according to the quality of his customer service.
When the sale is completed, the customer can assess the broker's performance through a survey. To maintain recognition of his certification, the real estate agent must maintain a minimum satisfaction level of 75%.
You can ask if he has agreed that the quality of his service will be assessed.
3. Choose your real estate broker according to his / her availability.
Many real estate brokers will boast of the large number of their "house for sale" (listing) or "sold" (selling statistics) advertising displayed on the house lawns.
While this is a good indicator of the dynamism of a real estate agent, this is not a guarantee of his availability.
Will he find the time to work properly on the sale of YOUR residence?
Will your project slip under the stack?
4. Choose your real estate broker based on his reputation.
It is understandable that titles such as "President's Circle" or "Agent of the Year" appear on a professional card. But what is the opinion of other customers about the quality of services of this real estate agent?
The future buyer of YOUR residence is not interested in the honorable mentions of your agent, but in your property.
5. Choose your real estate broker according to his / her service.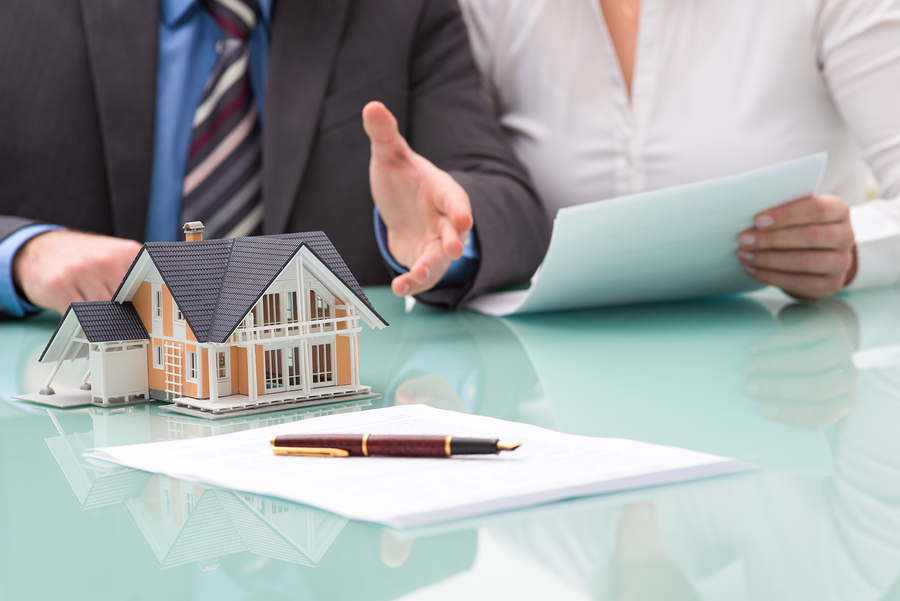 Your selection criteria must not be: I choose the one that will do the most, the fastest and the least expensive work possible.
As with any service, quality has a price.
Beware of a Real Estate Agent who:
Gives you an evaluation of your property during the first visit.
If he is conscientious, a Real Estate Agent will conduct checks required to properly estimate the value of your home.
Does not use all available resources (MLS / SIA, newspapers, internet) for your property to be seen by as many potential buyers as possible
Offers a lower commission very quickly as soon as the first meeting is over. Ask yourself if he is doing this to tempt you and … make you sign the real estate brokerage contract.
6. Choose a real estate agent based on his responses.
Do not hesitate to ask your broker:
What experience do you have in real estate brokerage?
What is your most recent training and when was it? The OACIQ may indicate the "continuing education units" that have been awarded to the broker.
Do you have other homes for sale in my neighborhood?
Have you recently sold homes similar to mine or located in my neighborhood?
My residence must be highlighted. How will you do that?
What commission rate do you ask for?
How will you share this with a potential broker working for the buyer?
How long is the contract that binds us?
What are the terms and conditions in the event of a revocation of the contract?
Are you registered with the Canadian Real Estate Association (CREA)? More than 100,000 real estate brokers in the country are part of the AIT. The latter is distinguished notably by its ethical standards.
7. Choose your real estate broker for access to the MLS / SIA system
The MLS (Multiple Listing Service) / SIA (Inter-agency Service) system gives a property greater visibility. Any authorized real estate broker who is part of one of the 12 real estate boards in Quebec can access or register a property. You can benefit from a great deal of information about any residence that is in the system.
8. Choose your real estate agent based on his professional liability insurance coverage.
Every real estate broker must have such a cover to receive his license to protect you from the consequences that could arise from:
A mistake
An Omission
Negligence
Or a fault.
In addition, he or she must contribute to the Real Estate Compensation Fund, whose purpose is to support you if the agency or broker is guilty of:
Dishonest operations
Fraud, or
Embezzlement.
9. Choose your real estate broker for his remuneration.
The amount of the commission is not determined by any norm, regulation or law. Although the commission may be negotiated, it typically amounts to between 4% and 7% of the cost of the transaction, knowing that it may have to be shared with the buyer's agent.
You can trust an agent who advises you that this commission is subject to the applicable taxes at the outset of your talks because he is being transparent.
10. Choose your real estate broker with a permit from the OACIQ.
Before signing any brokerage authorization, it is very important to be assured that the broker holds a valid permit granted by the OACIQ .
By visiting the website, you can check if your prospective broker holds a license or has received a notice of disciplinary action in the past.
You can also request for information by calling 1-800-440-7170 toll-free or 450-462-9800.
Tips for signing a brokerage contract
Take your time
Take your time to read the brokerage contract in full before signing.
Ask questions
If any clause in particular seems confusing, do not hesitate to ask questions. The broker is obliged to give you the clarification you need to fully understand and correctly evaluate the services he wishes to offer you.
You can change your mind, but be careful
If you do not have the second copy of the brokerage contract signed by the broker, the contract is not valid and you are not obliged to comply with the requirements.
When you have the document signed by the two (2) parties, you can use the three-day right to cancel and cancel the contract if you change your mind.
At the end of this period, if the contract contains the "no-cancellation" clause, you cannot change the terms or terminate the contract, unless you have previously agreed on the amounts to be reimbursed to compensate the broker.
Automatic renewal prohibited
The Real Estate Brokerage Act prohibits the inclusion of an automatic contract renewal clause.
What is the OACIQ?
What is the real estate brokerage law?
The Ministry of Finance has given the Quebec Real Estate Brokerage Organization (OACIQ) a mandate to administer the Real Estate Brokerage Act and its regulations for the protection of the public and the proper supervision of real estate and mortgage brokers in Quebec.
As a first step, the Agency ensures the proper training of the candidates for the position of real estate broker. It therefore evaluates and recognizes the technical competence of a real estate broker.
The OACIQ then supervises the practice of real estate brokerage. To this end, it ensures compliance with the rules of professional conduct, namely:
Protect the confidentiality of your personal information
Inform you about the steps involved in the transaction
Take care of drafting your rights and obligations and
Make sure that these correspond to your wishes
To conform to the use and the rules of the industry as regards to the steps
Discern what might be detrimental to the transaction or the achievement of the purpose of the transaction
Keep track of records and to ensure follow-up
Participate in ongoing trainings to be at the top of his game.
In addition, OACIQ controllers constantly travel to the premises to dispel any doubts regarding compliance with regulations by brokers during the follow-up of records and transactions.
Take the time to choose a real estate broker that meets the criteria you set yourself. Indeed, since you will work together all the time, it is better to ensure he will listen to you. It is essential that he inspires confidence in you and that you are at ease with him. You will also have to trust his knowledge of the real estate market.
For this reason, it is recommended that a minimum of three (3) bids be obtained from brokers, whether for the purchase or sale of a house or condo.
CompareRealEstateAgents.ca allows you to contact three (3) real estate brokers in one application.