25 janvier 2022,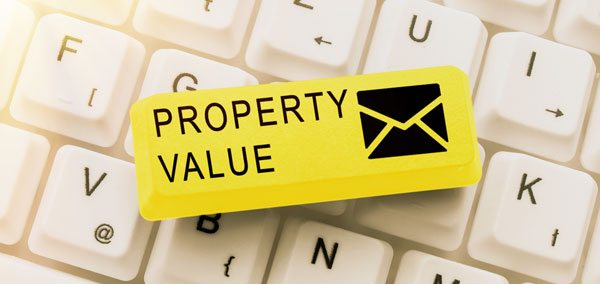 Are you interested in buying land as an investment or for building a house? You may have heard the expression "location is everything." The location of the land will continue to have a huge impact on the price of your property even after you have built a house on it.
It is important to determine the actual value of the land before you purchase it. But how do you go about doing that?
There are 2 ways to assess the value of the land – through a real estate broker or a certified appraiser.
Of course, a real estate broker can give professional advice based on her experience and knowledge of the market without charge. As a client, a broker will be happy to give you his opinion. However, only a certified appraiser can give an appraisal report that would be credible to financial institutions for mortgage purposes.
Get land appraised by an appraiser approved in Quebec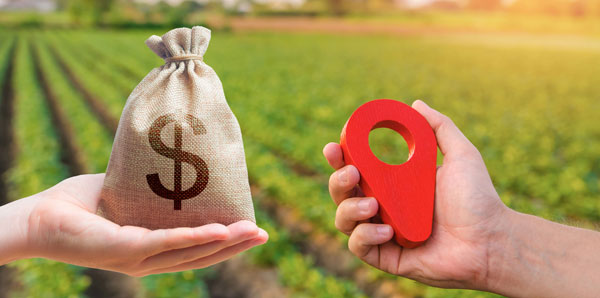 Land is not cheap. It costs thousands of dollars per acre, depending on whether it is residential or farmland. Thus, determining the value of the land is of utmost importance for a buyer.
It is recommended that before you acquire land, ask a certified appraiser to assess its value.  Certified appraisers have the expertise and experience to do it for you. They use precise and reliable methods in determining land value.
It costs around $300 to $500 to get an appraisal report. And while a real estate broker will not charge you for his or her opinion, it will not be as factual as that of an appraiser.
Certified appraisers commonly use a method called comparable sales to determine the value of land. He will inspect the parcel of land and its features and compare it with other lots in the area that have been sold recently. If this data is not available, an appraiser will also evaluate the best use of the land to determine its value.
Factors such as zoning regulations, accessibility of the property, and topography also affect value. They also use a method called the "income approach" wherein they project future income to determine valuation.
We will discuss these factors in more detail to show you how appraisers will determine the value of the land.
Accessibility 
If a plot of land is not accessible, its value will be reduced. Rural vacant land can be difficult to access and for this reason, its value is often much lower.
On the other hand, commercial land which is located right next to major roads has a higher value.
Location
The location of land plays a big role in determining its value. Land in urban areas is worth significantly more than rural vacant land. When land is close to schools, jobs, and amenities, the appraisal is much higher.
Appraisers will also consider how the neighborhood is developing. If the rural area shows an increasing population and robust economic activity, the land could get a higher value.
Size, Shape, and Topography
Topography and shape are critical considerations because they determine the potential use and development of the land. If a lot has an odd shape, it has less usable acreage and smaller frontage than standard lots. These two reasons make them less desirable. If the lot has a river running through it or has hills, it could also be difficult to build on. Hence, these types of land may be assessed at a lower value.
Smaller lots generally sell at a higher price than larger parcels of land because the demand for smaller lots is high.
Local Amenities 
Does the land have access to a lake, hiking trails, beautiful scenery, or other amenities? These increase the value of the land at resale.
Improvements
Has the land been improved? If it is landscaped, fenced, or provided with water or electricity, the value will be higher than raw land.
To know the fair market value of a piece of land, find a reputable appraiser to estimate the value.
You can compare offers from our partner appraisers to save time and money.
Just fill out the short online form on this page!
Buying land to build a house
There are many vacant lots for sale in Quebec for those interested in building a house.
Many Quebecers want to build a custom home to match their lifestyle or preferences. Before you buy land, check the following:
Are municipal services accessible?
Sure, it can seem really attractive to live far from the crowds. But this can also have certain disadvantages. If the municipality is not responsible for maintaining the roads leading to your property, you will need to spend your own funds. If municipal services are not available, telecommunication facilities may also be inefficient. Very few people can live without good internet nowadays so don't take things for granted.
Is the land suitable for your type of construction?
Some landowners have regretted their purchase after realizing they could not build the home of their dreams on the land. Check regulations with your municipality and get advice from a real estate broker.
What surrounds the land?
Check what surrounds your land – wetlands, farms, etc. Make sure you like what is nearby.
What restrictions are there, if any, regarding future development?
Some neighborhoods have restrictions regarding the appearance of the building. You should also check zoning regulations and other municipal restrictions such as height, garage, fence, etc.
Is the area prone to flooding?
You should check if the land is prone to flooding with flood zone maps. This will help you avoid losses in the future.
Work with an experienced and reliable real estate broker to look for the perfect piece of land to buy. You can compare brokers using our short online form, free of charge!
Home inspection vs. Appraisal
Most people are familiar with the term home inspection and confuse it with an appraisal. While they are similar in some ways, their functions or purposes are different.
A home inspection is performed before a home purchase to determine the actual condition of the property. Is it safe to live in? Are there serious defects with the building or any of its mechanical systems that would require expensive repairs? In short, a home inspector checks the various aspects of a home to make sure the buyer is aware of any lateral defects.
On the other hand, an appraisal is performed to determine fair market value.
The goal is for the buyer to know the reasonable price to pay for a property, including vacant land. It helps a buyer make sure he is not paying too much. For a seller, it is a valuable tool for setting the selling price of a property.
When is it worth it to hire an appraiser?
There are several reasons to arrange for a property valuation. These include:
If a piece of land or property is being partitioned for patrimony in the event of death or divorce;
For applying for a mortgage or home financing;
For disputing the municipal property tax roll based on property value
For setting a selling price for sellers or to check on property value for buyers.
Information from a property appraisal is very useful when buying land, house, or condo.
Land types for evaluation in Quebec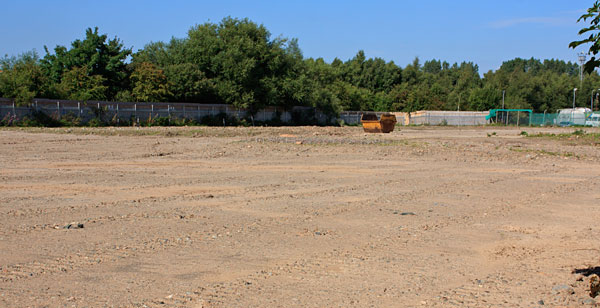 Quebec territory is divided into types of land for multiple uses. Some lots are residential while others are for commercial use for buildings, industrial buildings, agricultural, or forestry.
These types of land are subject to market value assessment:
Residential lots
Commercial lotss
Farmland
Woodland
Industrial land
Land suitable for development
Find the best real estate brokers in your area using our short online form! Receive FREE and NO COMMITMENT quotes for your real estate purchase.
Buy a Home vs. Land for building a home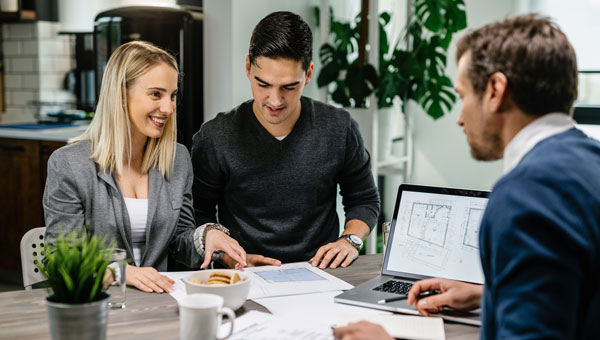 Many homebuyers spend much time and energy searching the perfect home before they sign a contract or put down a down payment.
The price, location, taxes, and mortgage financing are just some of the factors that influence a property purchase. But though there are several choices to be made, one of the most important decision to make is whether to buy an existing house or land to build your custom home.
Both choices have pros and cons. Take a look at each choice to get a clearer understanding of your options.
Buying an existing house
Buying an existing house has 2 distinct advantages – savings and convenience.
When you get approved for a mortgage and you pick out a house to buy, you can make an offer to purchase. The real estate transaction can be finalized and the ownership transferred to you in no time.
Because it is faster and easier, most people prefer to do this. You know exactly how much the cost will be, you can already see the home in all its glory, and you don't need to wait a long time to occupy it or own it.
A good real estate broker or agent can facilitate the whole process – finding an ideal home, negotiations, home inspection, financing, and closing. The conveniences from this option are compelling which is why many choose to buy an existing home rather than build one.
There are some disadvantages to buying an existing home. You may not get exactly what you want. You would still need to do some renovations to tailor the house exactly to your specifications.
Building a house on your land
While building a house on your land is not as convenient as buying an existing house, it does offer certain advantages.
You can make sure to incorporate the things that are most important to you. The layout will be exactly to your specifications and the design will be to your taste.
By building a custom home, you will need to make fewer renovations in the future, especially if you include future plans in your home's design.  You will achieve a higher level of satisfaction with a new build than buying an existing house.
Some disadvantages include the possibility of going over your budget. Construction also takes time which means it will take longer for you to move in. It is advisable to work with a reputable contractor to manage your budget and timetable.
In either case, it is advisable to hire a qualified real estate broker to help ensure the process is as smooth as possible.
FAQS for buying land in Quebec
Is owning land a good investment?
Land is a very good investment because it increases in value. Owning a piece of land can provide you with financial security and peace of mind. Many experts recommend raw land as a investment and for future development such as for housing or for commercial use.
Land requires little or no maintenance on your part and can be sold at a much higher price in the future.  Just keep in mind that location, location, location is of paramount importance.
How do I know if the selling price of a piece of land is reasonable?
One way to find out the fair market value of a piece of land is to investigate the price of similar plots within the area. You should also consider hiring a real estate appraiser to assess the value of the land.
Do I need a land survey before buying a piece of land?
A land survey is a map outlining the legal boundaries of a property. If you are buying land, make sure you are not looking at a dated survey. You can get a professional to assist you and the cost will depend on the size of the lot.
What questions should I ask the real estate agent for buying land?
One of the most important questions to ask your agent or broker when buying land is the restrictions. Even when land changes ownership, restrictions stay in place. Review the list of restrictions on the land with your broker before your purchase. Some areas have restrictions regarding the number of vehicles or for building a fence. By knowing what restrictions are in place, you can decide if you want to walk away from the deal.
Why is soil quality important when buying land?
The quality of the soil is very important when planning to buy land. Soil evaluation tests are done to determine the rate that water drains through the soil. A test (called perc test) can assess if it is possible to install a septic system if the land is not connected to a local sewage system. If the test says otherwise, building a house on the land may not be feasible unless you can connect to a sewage system in the area.
What are the costs of buying land?
Aside from the cost of the land, you should consider other costs such as fees, permits, and getting water and other utilities (if they are not yet connected), and the Welcome Tax or land transfer tax.
Compare brokers in Quebec for buying land or an existing home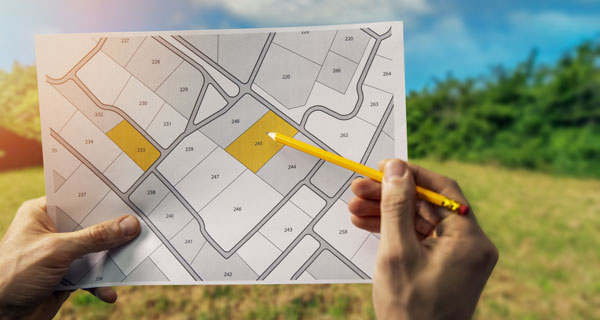 Searching for the best piece of land for investment or for building a new home can be overwhelming.
Fortunately, there are many qualified and experienced real estate brokers in our network who can streamline the process for you. Our partners work throughout Quebec:
Montreal
Ottawa-Gatineau
Quebec
Sherbrooke
Trois-Rivieres
Chicoutimi-Jonquiere
Drummondville
Saint-Jerome
Chateauguay
And many more….
Based on your needs and goals, our partner brokers will help you find the property of choice. Because buyers don't pay commissions, you get expertise and guidance at no extra cost!
Choose from hundreds of available land in Quebec for sale which only brokers have access to so you can save time and money!
Whether you are looking for residential land, farmland, or commercial land, you will benefit from the services of a real estate broker.
Fill out the form on this page and get connected with the best real estate brokers in your area, free of charge!