28 décembre 2018,
Montreal is a city par excellence in Quebec. It is the center of economic activities in the province and is a magnet for millions of tourists each year. 
It is also a city with the highest number of residents in the province, making us wonder: does Montreal offer a high quality of life to its residents?
The short answer is- ABSOLUTELY!
Montreal has not been ranked as one of the best cities in the world for nothing. If you are thinking of moving to the city and would like to discover the most beautiful neighborhoods to live in, you are exactly in the right place.
We offer you a gold mine of information about the city, in addition to presenting the TOP 10 of neighborhoods to live in Montreal! Once you have read this article, you will have an excellent idea of what type of property you want to buy and which neighborhood you are interested in.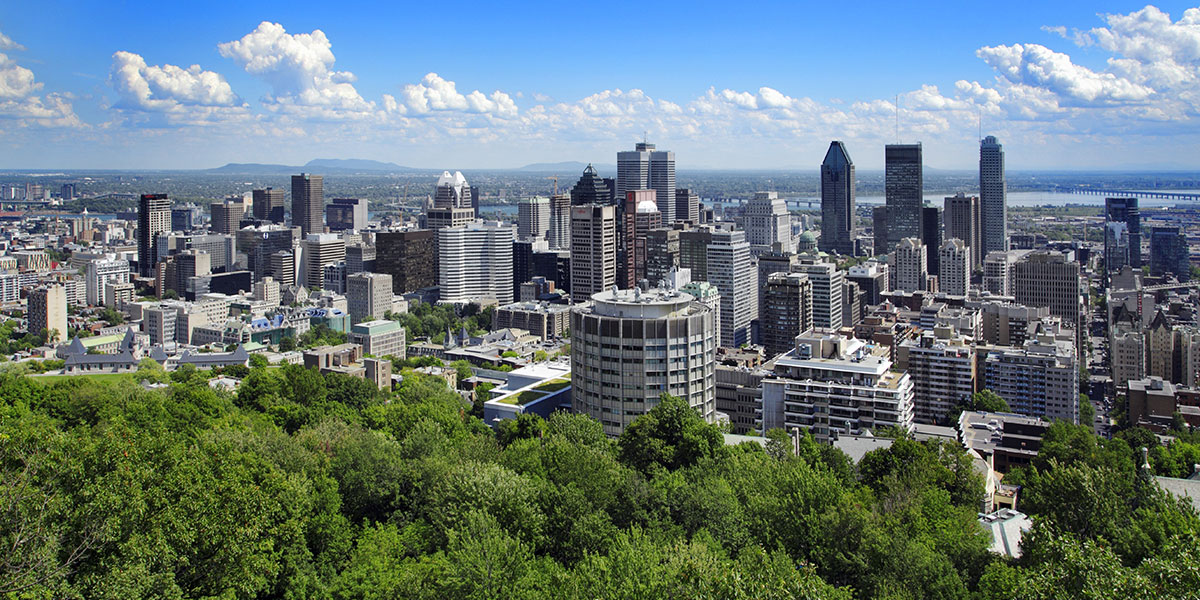 GLOBAL PORTRAIT OF THE CITY OF MONTREAL (FACTS AND STATISTICS)
Below is a global portrait of the city of Montreal in numbers. These figures were taken from the Centris database.
Status of Montreal: Metropolis
Population of the Island of Montreal (2016): 1,942,044 inhabitants
Population of the Greater Montreal Area: Over 4 millions inhabitants
Population density: 3,890 inhabitants/km2
Unemployment rate: 9%
Median age: 41 years old
Average household income: $76,614
Percentage of homeowners: 60%
Languages spoken: 55% French, 25% English, and 25% other
Immigrant population: 35% vs 65% local
Median price of a single-family home: $475,000
Average selling time of a house: 63 days
Average price of a condo: $309,000
Average selling time for a condo: 89 days
Average price of a PLEX: $550,000
Average selling time of a PLEX: 68 days
Number of boroughs: 19
Second largest city in Canada
List of boroughs of Montreal
Montreal is a city where life is good and where the diversity of living environments is important. The city is divided into 19 districts with very different styles and characters.
If you plan to eventually move to Montreal, we advise you to choose your neighborhood with care. Here is the list of boroughs in Montreal.
The 19 boroughs of the city of Montreal
Côte-des-Neiges–Notre-Dame-de-Grâce
Ville-Marie
Pierrefonds-Roxboro
Montreal NorthAhuntsic-Cartierville
Saint-Laurent
Villeray–Saint-Michel–Parc-Extension
Lachine
Bizard–Sainte-Geneviève Island
LaSalle
Outremont
Verdun
Anjou
The South-West
Rosemont–La Petite-Patrie
Mercier–Hochelaga-Maisonneuve
Saint-Léonard
Rivière-des-Prairies–Pointe-aux-Trembles
Plateau-Mont-Royal
These boroughs are NOT neighborhoods as such. We will present our selection of the 10 most beautiful neighborhoods to live in Montreal a little lower!
THE MAP OF MONTREAL AND ITS QUARTERS
For those unfamiliar with Montreal's geography, the map below shows the shape of the island of Montreal and the distribution and division of its main boroughs.
Downtown Montreal is concentrated around the Ville-Marie borough and Plateau Mont-Royal.
Founded in 1642, Montreal has undergone many transformations since then and its neighborhoods have been divided and revitalized over the years.
Even today, some formerly less desirable sectors and neighborhoods are becoming unavoidable for some types of buyers.
We can think of Griffintown, Saint-Henri, Southwest, and Hochelaga-Maisonneuve districts which used to be poorer and more industrial sectors.
In 2022, Montreal remains a city divided into a fairly precise territory and where various lifestyles co-exist daily.
See the map for the location of each borough.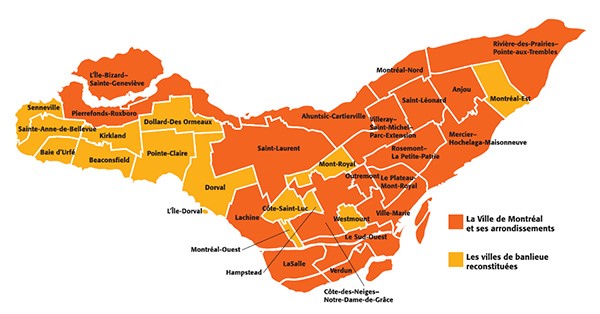 Source image : Fiatlux
How much does it cost to live in downtown Montreal?
Is living in Montreal possible for everyone or are the neighborhoods in the city too expensive! We did the math!
MONTHLY EXPENSES (SINGLE PERSON)
Housing 3 ½ near downtown (approximately): $900
Electricity: $95
Internet and cable: $100
Cellphone service: $60
Groceries: $350
Restaurants: $150
Outings: $140
Public transport: $83$ (cost of Opus card)
TOTAL: $1,878
TOTAL ANNUAL COST: $22,536$
Do you just need a net salary of $22,536 a year to live near downtown Montreal? It's really not that bad considering that the costs of living in Toronto and Vancouver are much higher. But remember, it's the MINIMUM!
A single person with an average salary of $40,000 can live in Montreal without too many constraints. Of course, we are talking about rental costs in a sector that is not upscale. You understand the logic all the same.
If you want to make your own calculations based on your situation regarding a real estate purchase, fill out our free form at the bottom of the page.
What are the primary benefits of living in Montreal?
Living in Montreal means choosing a lifestyle that is unique and comes with many benefits. Here we present the main advantages that the big city has to offer!
An important metropolis in Quebec
Montreal has the status of a metropolis and ranks as the second largest city in Canada. This comes with its advantages since with its status of importance, Montreal attracts the biggest events around the world as well as the most famous stores.
By living in Montreal, you can enjoy all the high-end services and products that you will not find anywhere else in Quebec!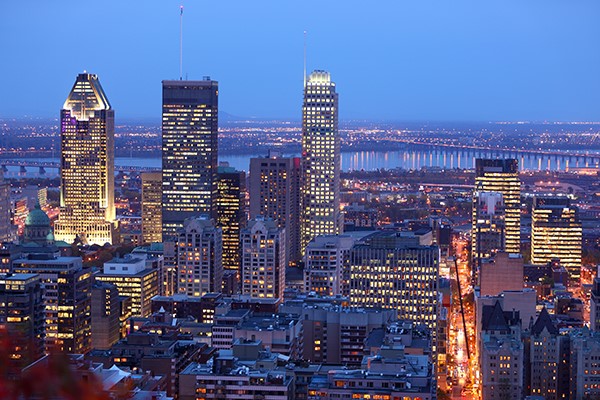 Employment and economic hub
Montreal is unquestionably one of the largest economic hubs in the country. Here you will find the largest company headquarters and you can truly say that there is no shortage of jobs.
It is a great place to start a small business since all the services and professionals you may need can be found within minutes of your home. This is very convenient, right?
Salaries in the Island of Montreal are quite good and the Montreal economy is currently doing well.
Incomparable quality of urban life 
When we talk about the quality of urban life, we are referring to the fact that Montreal is not only a city where life is good and where activities are not lacking but also where safety is paramount.
Montreal is safer than many big cities in North America and you can feel it while walking in the streets at night.
The city's downtown area is clean, safe, and all essential services are within walking distance.
Its « nightlife » and active life are well-known around the world
Montreal is the « nightlife » capital of Quebec, and even Canada! People from all over the world travel to Montreal to enjoy the downtown's incredible atmosphere.
Whether it's bars, pubs, theaters, restaurants, shops, or special events that you are looking for, there's always something great and interesting to do in Montreal.
No matter where you live in Montreal, downtown and major arteries are easily accessible for parties and celebrations.
Would you like some examples? Here are a few!
Some streets for celebrating in Montreal:
✓   Sainte-Catherine
✓   Saint-Denis
✓   Saint-Laurent
✓   Pee
✓   De la Montagne
✓   Crescent
✓   Stanley
✓   Old Montreal
✓   And a whole lot more!
Although you will surely not be celebrating every night, living in Montreal comes with the advantage that you will never miss activities to do during your outings with your partner or friends.
It's also a great place to meet new people and discover new restaurants and new cultures.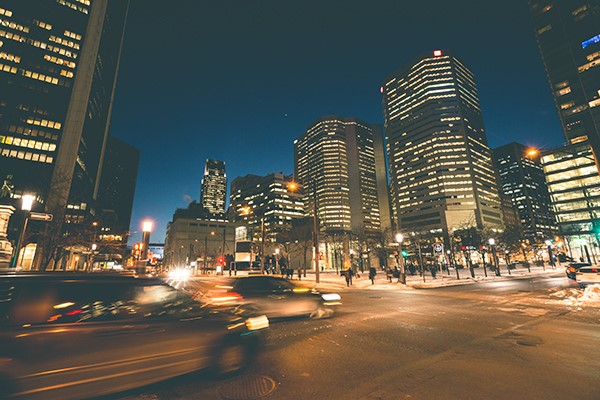 Totally incredible condo projects                         
While the condo market is more difficult in Quebec City and in some other cities in Canada, the condo market in Montreal is flourishing and completely new condo projects are coming up every year.
Honestly, some projects offer extraordinary common spaces that will make you feel like you're living in a luxury home straight out of a celebrity magazine.
There are high-quality units with exceptional views and locations across the city.
You can find one for all types of budgets. Modern studios and 3 ½ in beautiful buildings sell for about $220,000.
Luxurious units exceeding $1 million are also available in some projects.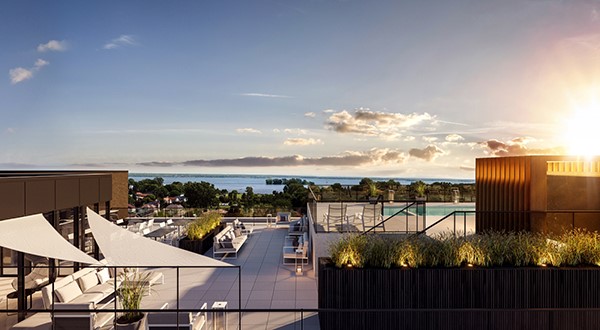 Source : Le Quatrième Condos
There are many parks and green spaces
There are dozens of parks and green spaces in Montreal. No matter which neighborhood you choose, you can enjoy green expanses and spaces for summer and winter sports.
Some well-known parks in Montreal
Square Dorchester
Mont-Royal Park
Bois Summit
Jeanne-Mance Park
Jarry Park
Jean-Drapeau Park
La Fontaine Park
Sir-Wilfrid-Laurier Park
Montreal Botanical Garden
Louis-Cyr Park
Sir-George-Étienne-Cartier Park
And dozens of other parks!
The Old Montreal and its great arteries will never cease to surprise you
The historic areas and the cultural heritage of the city of Montreal are extremely interesting and you will never stop discovering them.
If you are passionate about history or new discoveries, Old Montreal is full of surprises and places to visit that will make you live incredible experiences.
We have never really finished visiting Montreal, even when we live there. Some neighborhoods and arteries are truly magical at different times of the year. You will enjoy a beautiful environment that will give you the something to see all year-round.
Buying a condo in Montreal: is it a good investment?
Buying a condo in Montreal in 2022 and 2023 will still be profitable according to many experts who are very familiar with the real estate market in the Quebec metropolis.
Unlike in Quebec where condo supply far exceeds demand, the condo market in Montreal is in a good position and the balance between buyers and sellers remains stable.
If you buy a condo, you can expect it to maintain its value or even to appreciate a little over the next few years.
The condo market in Montreal is very vibrant
The construction of condo buildings in Montreal does not stop. Each year, new projects rise and some people wonder if it will not hurt the market.
So far, pre-sales and sales for new condo projects are sensational and buildings are selling very fast.
It is sometimes necessary to hurry as soon as the project is announced to take advantage of the most beautiful units. We can say that the condo market is in good health, and that it is surely a good

What are our best tips for buying a condo in Montreal?
To help make the process of purchasing your condo in Montreal easier, we have prepared a list of our best tips for buying a condo.  You will see that some of these tips are not quite obvious and you may not have thought of them before.
✓   Take the time to shop around to see many types of condos before making your choice.
✓   Don't fall in love with a condo but rather be logical and avoid paying too much.
✓   Always include a clause in your offer that nullifies it if you are dissatisfied with the financial statement of the building.
✓   Check the co-ownership agreement to know all the details regarding the management of the property.
✓   Read the condo regulations to know what you are allowed and not allowed to do.
✓   Have your accountant go over the condo's provident fund.
✓   Pay special attention to the condo fees: the more common spaces and amenities, the more expensive they will be!
✓   Always make a pre-sale inspection of the condo (unless it is a new construction)
✓   Analyze the neighborhood where the condo is located to see if the lifestyle suits you
✓   Buying with a broker is a huge advantage since the service is 100% free and saves you time and money
✓   The list of expenses associated with buying a condo is often under-estimated so it is better to make a list before your purchase
✓   Check out our TOP 10 neighborhoods to live in Montreal
Invest in a PLEX in Montreal
PLEXES have definitely become popular in Montreal since 2022! Buyers in the Island of Montreal are numerous and target the best neighborhoods to buy.
In Mont-Royal, Outremont, Hochelaga-Maisonneuve and many other neighborhoods, PLEXes are selling quickly and at a good price.
The PLEX bidding war is raging in the Island of Montreal
There is even a bidding war for PLEXes (2-5 units) in some parts of the city.
In the TOP 10 neighborhoods listed below, you will find some of these neighborhoods so popular with real estate investors and serious buyers of the metropolis.
If you are considering investing in real estate in one of the most popular neighborhoods, we advise you to learn how to calculate the profitability of a PLEX and its return of investment.
By being well-infomed, you can make smart decisions.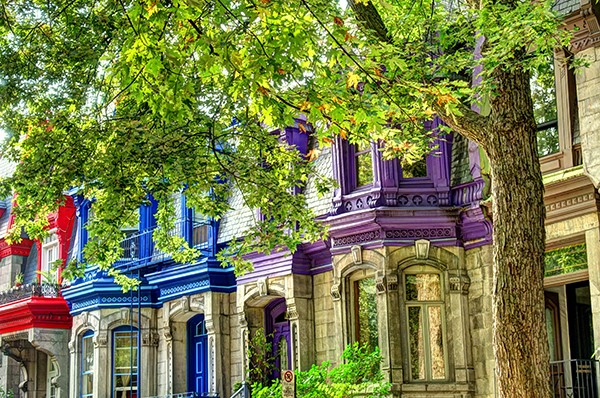 Buying with a broker in Montreal – what are the advantages? 
Regardless of the neighbohood in which you want to buy your future house, buying with a broker comes with many benefits.
Among others:
✓  The broker has access to exclusive information and can find you bargains that you would not otherwise have seen.
✓   He will save you time by searching for properties that meet your criteria.
✓   He knows how to ask the right questions to identify problems and help you to avoid them or to negotiate.
✓   A broker knows perfectly the different sectors of Montreal and how to negotiate the price with sellers for you to obtain the best « deal ».
✓   A broker acts as your guide and will answer all of your questions and concerns from start to finish.
✓   He will take care of all legal and statutory aspects.
✓   His services are FREE.
✓   Your transaction is protected by the Real Estate Brokerage Act.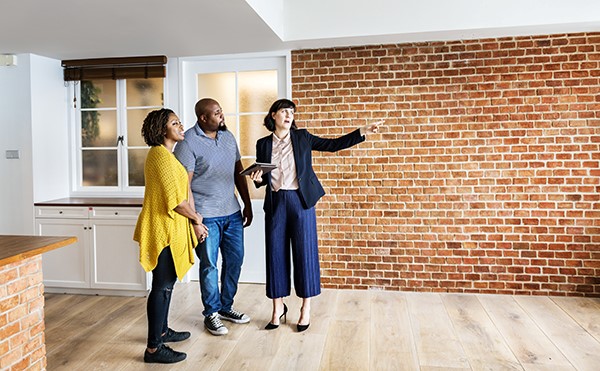 Selling with a real estate broker in Montreal – what are the advantages?
Whether you own a house in Outremont or Verdun, selling your property with a real estate broker definitely comes with many advantages, such as:
✓   You benefit from maximum visibility by virtue of the Centris network and other references of brokers.
✓   A broker can save you a lot of time since he will take care of everything (marketing, legal aspects, visits, etc.).
✓   He knows the real estate market in your area and how to evaluate the fair market value of your property.
✓   Real estate brokers and agents inspire confidence in buyers.
✓   He will negotiate with the buyers on your behalf with the goal of selling at the best price.
✓   He can refer you to other experts as needed.
✓   He will guide you until the contract of sale is signed.
✓   Your transaction is protected by the Real Estate Brokerage Act.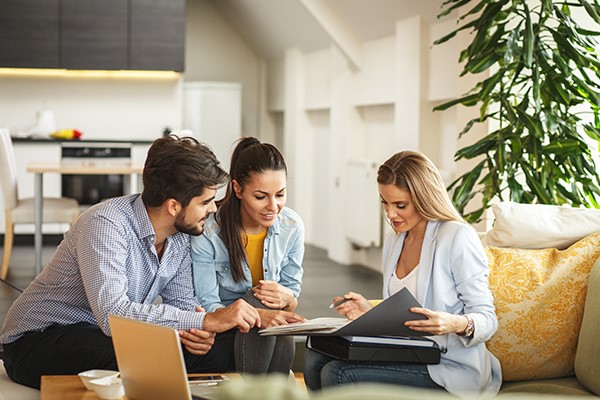 THE TOP 10 BEST NEIGHBORHOODS TO LIVE IN MONTREAL
Here it is! We analyzed most neighborhoods in Montreal and came to a consensus. We present you our TOP 10 best neighborhoods to live in the city of Montreal! The statistics presented have all been taken from the website of the city of Montreal.
#1: PLATEAU MONT-ROYAL
#2: THE MILE-END
#3 : OLD MONTREAL
#4: LITTLE ITALY
#5: OUTREMONT
#6: WESTMOUNT
#7: SAINT-HENRI
#8: GRIFFINTOWN
#9: HOCHELAGA-MAISONNEUVE
#10: VILLERAY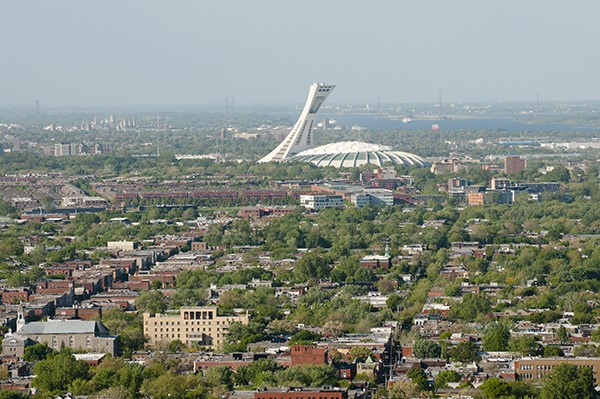 #1: PLATEAU MONT-ROYAL
Not surprisingly, at the top of our list is the famous Plateau Mont-Royal neighborhood!
We are talking here about the upscale sector where we find mostly luxury homes in the streets lined with mature trees.
This neighborhood literally overlooks downtown Montreal and has a completely mind-blowing view of the tall buildings and the center of the city's activity. Most of the photos you will find on the internet presenting downtown Montreal were taken from Mount Royal. This upscale neighborhood boasts clean, safe streets and very TASTEFUL homes. This is not a neighborhood for the budget-conscious. Indeed, the houses on the Plateau can cost a small fortune and are simply beautiful.
Montrealers often refer to Plateau Mont-Royal as the "wealthy" neighborhood because of its unparalleled location that blends green spaces directly adjacent to the city center as well as having spacious and luxurious properties.
HIGHLIGHTS
The borough (not the neighborhood) of Plateau Mont-Royal has a population of approximately 100,000 inhabitants and is the most densely populated borough of the territory.
The buildings in this neighborhood date mostly to years before 1950 and have been spectacularly well-preserved. They are often architectural and heritage works of art.
If you want to live in a peaceful neighborhood that reminds you of the suburbs right in the city, the Plateau Mont-Royal district has what it takes to satisfy you.
The borough has 53 parks, 4 important green spaces, 4 community gardens, 26 tennis courts, 17 community centers, 19 elementary and secondary schools, and more!
A busy neighborhood life awaits you!
Plateau-mont-royal.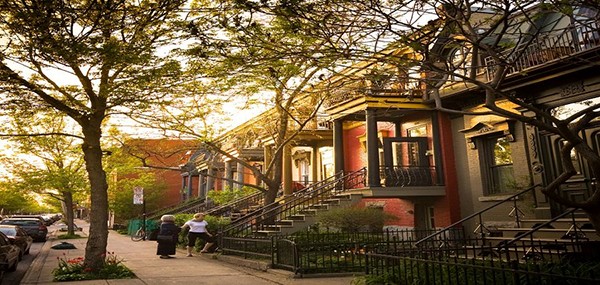 Source image : Montréal City Crunch
#2: THE MILE-END
The Mile-End neighborhood is now well-known in Montreal and takes its name from the former race track that once stood on the corners of Berri, Mentana and Mount Royal.
The Mile-End district is officially part of the Plateau Mont-Royal borough and its geographic position makes this neighborhood very popular with both young and established adults.
However, the Mile-End is one of the most English-predominant neighborhoods in Montreal so if you want to live in a francophone community, maybe you should move on to the next one.
If you don't mind the language barrier, you'll find that the Mile End has a lot to offer, from an endless choice of restaurants, activities and attractions or the strong artistic presence there.
If you like to party, you could also enjoy the many bars and pubs that are nearby. Young adults usually love the Mile-End and the "active urban" lifestyle.
HIGHLIGHTS
In 2016, the Mile-End district was named the "coolest" district in the WORLD by the HowlTravel website.
Young people aged 18 to 35 particularly love this neighborhood.
Rental properties are numerous, as are condo projects.
You will find numerous cozy cafés and pubs.
Great restaurants and bars line the streets.
Shows, theaters and art shows are available in large numbers.
The properties are generally in very good taste but are relatively expensive.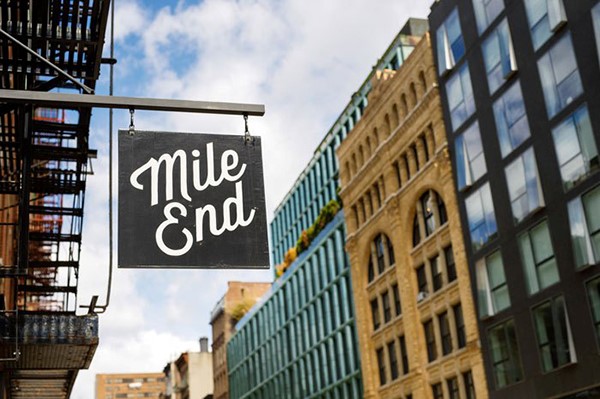 Source image: The McGill Tribune
#3: OLD MONTREAL
Ah, Old Montreal, how do you not fall under its spell?
The people who live there are unanimous in saying that it is the warmest and most lively district of the city, but how touristy!
If seeing tourists wandering around your neighborhood every day does not really bother you, the Old Montreal district will seduce you with its historic character that will take you back in time.
With its narrow streets and buildings that look like they came straight out of the Middle Ages, the historical areas, culture lovers will never get enough!
HIGHLIGHTS
Old Montreal was established in 1642.
Located in the Ville-Marie borough, this district is directly in the heart of the city and close to all the major thoroughfares and streets.
The Old Port is right next door, within walking distance.
Despite the fact that green spaces are not aplenty, a beautiful space along the river will allow you to enjoy the outdoors and a breathtaking view near your property.
The bars, restaurants and unique shops are there by the dozens. Options for outings are just a few steps away from home, you can't miss them!
Heritage and historic buildings are in great numbers:
Place d'Armes
Notre Dame Basilica
Vieux Séminaire de Saint-Sulpice
Place Jacques-Cartier
Château Ramezay
Musée Pointe-à-Callière
And many more!
Part of the most touristy neighborhoods in Canada.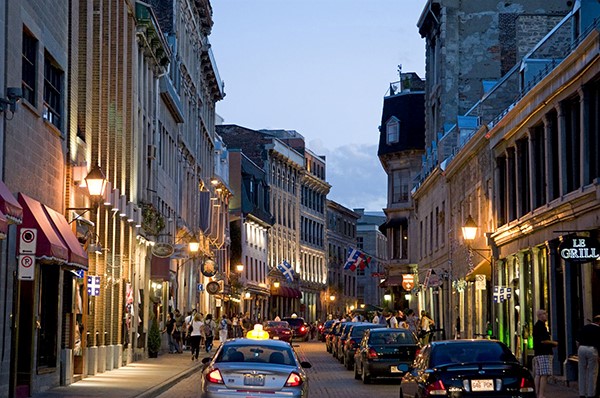 Source image : Hôtel 10 Montréal
#4: LITTLE ITALY
If you're looking for a little more peace and quiet and want to get away from the main thoroughfares while staying close to the city center, the neighborhood of Little Italy can be a wise choice.
It is definitely one of the warmest and friendliest neighborhoods in the city. The neighbors talk to each other a lot.  You never need to worry about walking in the street and the neighborhood life is excellent. You will really feel part of a "family" when you live in the district of Little Italy which many people like!
While it is a little further away from the major arteries, the fact remains that the district of Little Italy is full of good restaurants and discoveries to make. It is a neighborhood where most services are within walking distance of your home in a typical Italian atmosphere.
A charming neighborhood with friendly residents, what else is there to want?
HIGHLIGHTS
Quiet streets and charming residences
Many green spaces, parks and community centers
Restaurants, boutiques and Italian shops
Culture and Italian heritage well-preserved
The major attractions are:
Jean-Talon market
Place Shamrock
Dante Park
Church of Notre-Dame
Little Italy Park
Casa d'Italia
A perfect neighborhood for those looking for character and tranquility.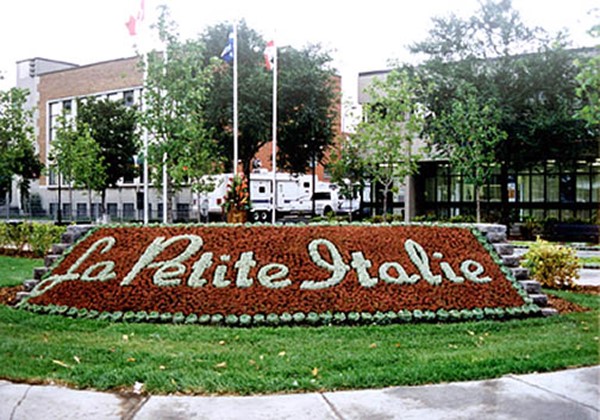 Source image : Héritage Montréal
#5: OUTREMONT
If what you are looking for above all is a beautiful house, take the direction of Outremont!
Indeed, the houses in this area are simply spectacular and you will certainly find one that will meet your needs.
In addition, the Outremont district, located at the bottom of the Plateau Mont-Royal, has a unique location that will allow you to access abundant green spaces on the one hand and all the excitement of the city center in the other.
It is often said that Outremont has its own urban forest as its streets are lined with many mature trees, among which are houses with heritage and historic accents.
It is a neighborhood where life is good for families (with financial means quite high, we agree) and for successful adults.
HIGHLIGHTS
The many parks in the area are the source of jealousy of residents of neighboring districts.
The borough of Outremont, including the surrounding neighborhoods, has approximately 24,000 inhabitants.
53.3% of Outremont's population are homeowners and more than 40% of families are couples with children.
It has 26 parks, 4 tennis courts, 1 pool, 21 community centers, 1 library and 10 ice rinks.
The Outremont district: is particularly distinguished by the quality of its houses and homes.
The Outremont Theater, Bernard Street, Laurier Avenue, the Outremont Art Gallery, and many other attractions make this area a very pleasant place to live in. Schools and colleges are also available in large numbers.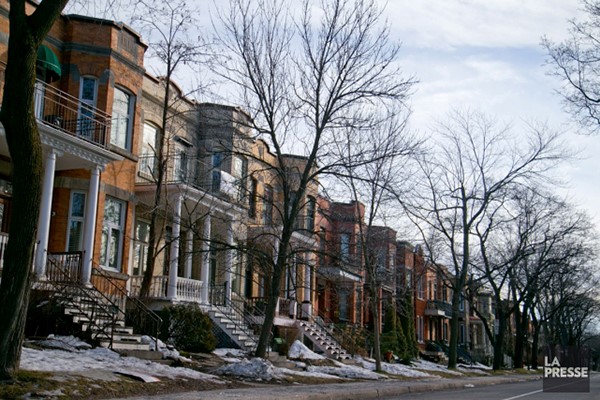 Source image : La Presse
#6: WESTMOUNT
Everyone has heard of Westmount, the famous English-speaking neighborhood of Montreal where you can find houses that look like castles!
If you don't mind moving a bit further away from the city center to gain a bigger living space, Westmount could be an interesting neighborhood.
However, there are certain barriers since the majority of residents speak English and the price of houses is ASTRONOMICAL.
It would be crazy not to admit that the streets of the neighborhood are ultra quiet, charming, and there is an atmosphere reminiscent of upscale European neighborhoods.
Westmount is the preferred neighborhood of very wealthy people looking for the beauty of the outdoors and privacy.
HIGHLIGHTS
Take note that the median price of a house in Westmount in 2018 is $1,667,500.
For a condo, it is about $645,000.
The number of residents in Westmount in 2016 was just over 20,000.
It is located on the western slope of Mount Royal.
The average household income is 3.6 times higher in Westmount than anywhere else in Montreal.
As they say, it is a rich neighborhood, designed for the rich, and where it is very good to live, if you have the means.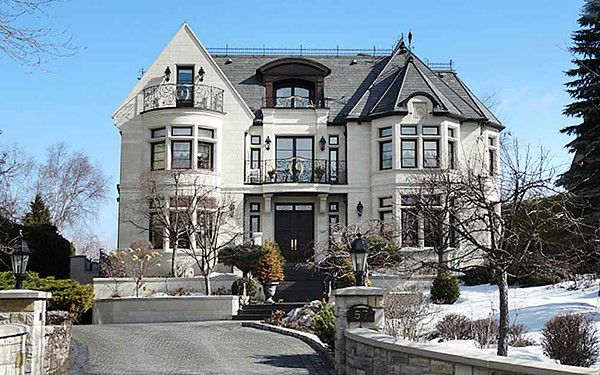 Source image : Westmount Mag
#7: SAINT-HENRI
St. Henri was once a working class district. Today is the new trendy neighborhood in Montreal!
Saint-Henri emerged as a gentrified neighborhood and investors have created a quiet neighborhood where life is good along the Lachine Canal.
Condo projects are proliferating in this sector and the inventory of housing displays modern/ industrial styles that are very « fashionable ».
Neighborhood life is active and dynamic while being quiet and peaceful in the evening.
The houses are simple but tasteful, and prices are generally affordable for the majority. It is a family neighborhood in full revitalization as we love them!
HIGHLIGHTS
In 2014, the Métro newspaper placed the Saint-Henri district in second place in the list of the best neighborhoods in Montreal.
Main streets, attractions and points of interest in Saint-Henri are:
Place Saint-Henri
Rue du Couvent et l'Hôtel des Encans
Saint-Henri Park
Parc du Premier-Chemin-de-Fer
Notre-Dame
Saint-Zotique Cathedral
Sir-George-Étienne-Cartier Square
Lachine Canal
The New Saint-Henri
The Woornef Saint-Pierre
And many more!
Away from the city center, Saint-Henri occupies a space of choice for those who want to enjoy all the amenities while having a quieter family neighborhood.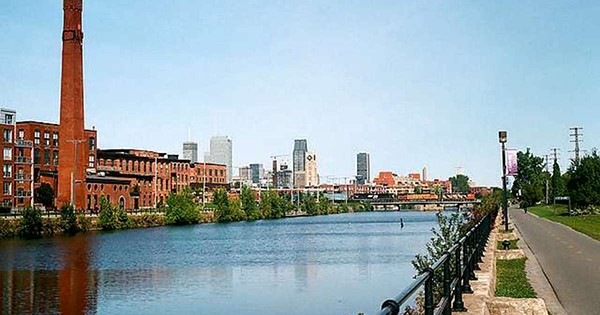 Source image : MTL Blog
#8: GRIFFINTOWN
Griffintown is a neighborhood famous for condos! Previously a well-established working-class neighborhood, Griffintown has definitely changed in the last few years due to the fact that developers are investing heavily in major condominium projects in the area.
Griffintown has become a modern and trendy neighborhood where young couples and professionals live in upscale and fashionable condos.
The Griffintown neighborhood is located in two boroughs, one part on the southwest and the other in Ville-Marie. The Lachine Canal is located south of Griffintown which offers a spectacular view to its inhabitants.
A little less warm and family-friendly,  it is generally a wise and interesting choice for young people who have an active lifestyle and who like to do a thousand and one activities.
The green spaces along the Lachine Canal are among the only green spaces in the area but many others are nearby. Griffintown is unquestionably the "in" neighborhood of 2022!
HIGHLIGHTS
Southwestern borough in full swing and revitalization.
Condo projects arise in Griffintown in mass quantities.
Population of the Southwest District: approximately 72,000 residents.
106 parks and green spaces in the South West.
Griffintown is located north of the Lachine Canal.
Formerly an industrial and working-class neighborhood.
Main attractions of the Southwest sector:
Atwater Market
Maison de la culture Marie-Uguay
Rue Notre-Dame and Monk Boulevard
École de technologie supérieure
Casino de Montréal
Plus many more!
Does Griffintown have what it takes to satisfy you?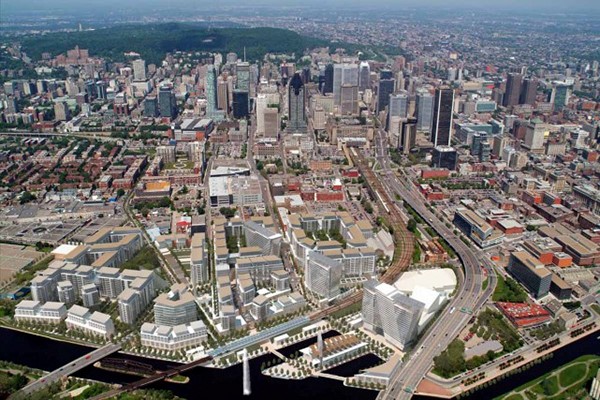 Source image : La Presse
#9: HOCHELAGA-MAISONNEUVE
Those who are looking for a neighborhood where to rent a cheap home that is well-located will fall in love with Hochelaga-Maisonneuve!
It is a neighborhood that is a little less opulent than the others but has a character of its own that will meet the lifestyle needs of many people.
It's urban life at its best! No single-family homes, or very few, while most homes are rental housing or condos.
It is a simple but complete neighborhood where the famous staircases are numerous and where life is good.
It is mainly a neighborhood where young people aged 18-35 will like to live.
HIGHLIGHTS
Many restaurants and bars including: Blind Pig, Le Trèfle, Monsieur Smith, the Bièrologue, Les Canailles, Bistro Le Valois, and more!
Several new real estate projects are emerging.
The sector is currently under revitalization.
More and more people are settling in the borough.
The sector has many households composed of single people (46%) and young people under 25 (25%).
The Mercier-Hochelaga-Maisonneuve borough has 88 parks, 12 community gardens, 4 libraries, 2 culture houses, 3 arenas, 12 outdoor rinks, and more!
There are also 31 secondary and elementary schools as well as 1 Cégep.
It is a very good neighborhood for adults at the beginning of their careers and for those looking for a young and dynamic environment.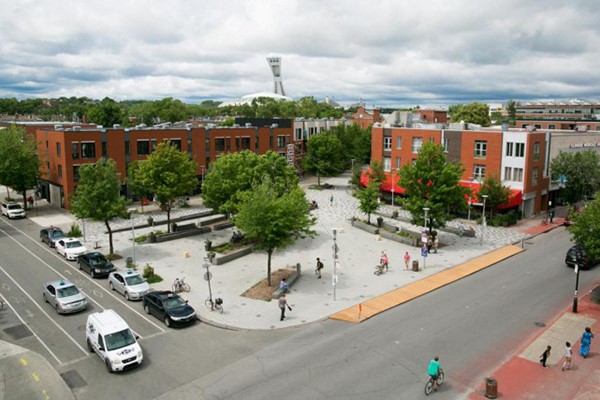 Source image : La Presse
 #10: VILLERAY
Finally, to complete our TOP 10 comes the district of Villeray, located in the borough Villeray-Saint-Michel-Parc-Extension.
In 2018, the Villeray district is considered by many to be one of the « coolest » neighborhoods in the city.
According to many media and residents, Villeray stands out from other neighborhoods because of  its unique attributes found nowhere else. Moreover, its excitement, vitality, many community projects, and residents make this neighborhood a "must" for all people who are looking for a neighborhood that moves!
Although Villeray is a busier area, most of the residential streets are quiet, lined with greenery and gardens, and you can almost feel like you're in the suburbs.
Truly, it is a small and peaceful haven near the city center.
HIGHLIGHTS
Villeray is a neighborhood located in north-central Montreal.
Jarry Park, one of Montreal's most beloved parks, is located there.
The borough in which the district of Villeray is located has 142,000 inhabitants, of which 39% are childless.
The borough is also one of the greenest in the region, with some 144 parks and green spaces, in addition to 7 community gardens.
It has 39 secondary and primary schools.
With 75 community and recreation organizations, it is clear that neighborhood life is important in Villeray.
The borough also makes available to its inhabitants 3 libraries and 1 cultural centre.
Villeray-Saint-Michel-Parc-Extension is a paradise for lovers of greenery, calm, prosperity and for those who want to live a semblance of suburban life in the heart of the metropolis.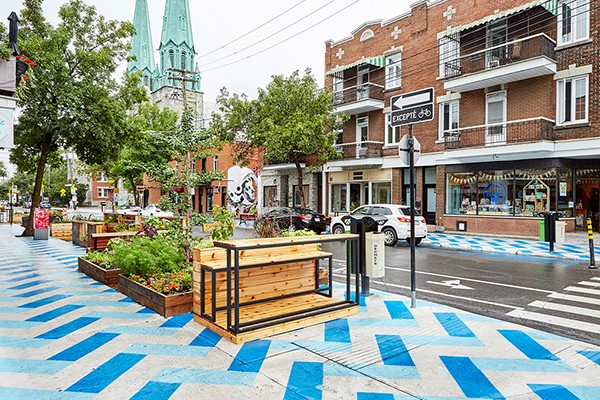 Source image : UQAM
Neighborhoods with different styles for different clients in Montreal 
---
This concludes our TOP 10 of the most beautiful neighborhoods to live in Montreal. As you can see, each neighborhood has its own character and style. As you have guessed, your interest in a neighborhood really depends on your preferences, lifestyle, and what you are looking for.
So, it doesn't mean that just because Plateau Mont-Royal is in first place that you should choose this neighborhood. Far from it! So understand here that this is a subjective ranking, but among this TOP 10, you will surely find a neighborhood that meets your criteria and needs in Montreal.
For example, young people starting a career, young couples, and singles,  particularly like Mile-End, Hochelaga-Maisonneuve and Villeray.
Older and established adults who enjoy a quiet family life will certainly love Outremont, Saint-Henri, and Little Italy.
Lovers of condos and urban living will not want to forsake the neighborhood of Griffintown, where we currently find some of the most beautiful condos in Canada, nothing less!
Buyers with big budgets who are looking for luxury will certainly turn to the Plateau Mont-Royal, Outremont, or the famous millionaires' neighborhood of Montreal, Westmount!
Generally, what should be remembered is that there is a multitude of interesting neighborhoods in Montreal. You just need to find the one that suits you best! If you are having difficulties
in making a choice, fill out our form to benefit from the advice and recommendations of experienced real estate brokers in Montreal.
They will help you from start to finish, 100% free of charge! If you are interested, here's how!
FIND YOUR REAL ESTATE BROKER IN MONTREAL TO BUY OR SELL A PROPERTY!
Have you found the perfect neighborhood for you and you want to start looking for the property of your dreams?
Are you a homeowner in Montreal and want to sell your property quickly and at the best price?
Don't wait a moment longer and fill out our form that is 100% free to compare 3 high-performing real estate brokers in Montreal!
They will be happy to take charge of your sale or purchase project and will help you to save time and money, guaranteed!
Our broker partners know all of the best neighborhoods in Montreal and will use their knowledge of the market to your advantage. Fill out our free form now!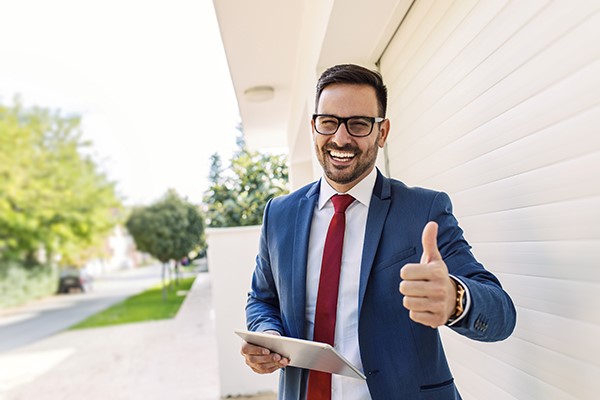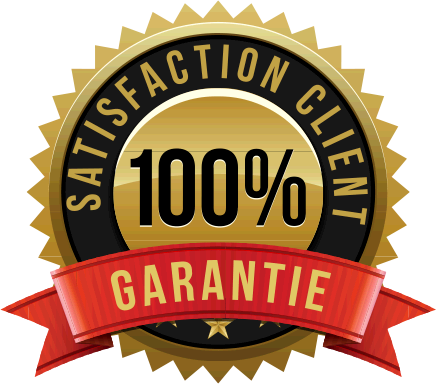 Compare 3 Real Estate Agents
Complete the form below and receive proposals from 3 real estate agents. Compare : Commission, Service and Personality
FREQUENTLY ASKED QUESTIONS ABOUT THE MOST BEAUTIFUL NEIGHBORHOODS IN MONTREAL (FAQs)
Here are the answers to the questions people most commonly ask about the most beautiful neighborhoods in Montreal.
How much is the average price of a house in Montreal?
A house costs an average of about $475,000 in Montreal, according to the latest Centris statistics in 2018.
Obviously, this price is much higher than the provincial average, but after all, it is Montreal that we speak of, THE metropolis of the province and the 2nd largest city in Canada!
In addition, the prices vary greatly according to the districts as you will see it in the next question.
 Which is the most expensive neighborhood to buy a house in Montreal?  
The most expensive and luxurious area to buy a home in Montreal is undoubtedly WESTMOUNT!
With a median price close to $1,667,500 in 2018, we can say that the prices of these homes are "not given".
Real castles and palaces await buyers who can afford it!
In which neighborhood can we find the best condo projects in Montreal?
Griffintown, certainly! A simple search on Google will allow you to see that Griffintown now includes the most beautiful condo projects in Canada. To save time and effort, you can also check our TOP 10 most beautiful condos in Montreal.
Can a real estate broker advise me on the neighborhood that suits me most?
Have you looked in detail at each neighborhood presented and still hesitating which one to choose? Are you wondering if a real estate broker can help you choose which neighborhood is best for you?
Our partner real estate brokers in Montreal are highly specialized in advising prospective buyers in their choice of neighborhood.
Montreal is a big city and choosing your neighborhood is an important major decision. Brokers know it, and they will be happy to take the time to choose it carefully with you.
Does Hochelaga-Maisonneuve still have a reputation as a « bad neighborhood» ?
The Hochelaga-Maisonneuve borough is still a bit of a bad neighborhood but it is important to note that the sector is experiencing a major revitalization program.
Indeed, more and more important projects are emerging in the neighborhoods of this borough which helps to attract young people and families. In addition, the prices of homes and properties are even more affordable but be quick because they may increase in the coming years.
 What are the best neighborhoods close to the city center?
Do you work in the city center or just want to be as close as possible? Our 3 recommendations that can satisfy most prospective buyers are Outremont, Plateau Mont-Royal and Mile-End.
Each neighborhood is located just minutes from downtown and has something special to offer.
Take the time to discover them to see which one is right for you!
Are there neighborhoods in Montreal that are good for immigrants?
Absolutely! We can safely say that Montreal is the #1 city in Quebec for immigrants since people speak French, English, and many other languages of local communities.
It has a Chinatown, an Italian Quarter, and various smaller communities. Immigrants often choose to settle in Montreal for the quality of the neighborhoods, the diversity of its languages, and the warm welcome they receive.
Is it also interesting to live in the suburbs of Montreal?
The Island of Montreal is full of more remote areas that may also be suitable for you if you would like to enjoy a lot with a backyard at a reasonable price.
Pointe-Claire, Dorval, Anjou, Beaconsfield and Pointe-aux-Trembles are good examples.
If you want to live in a more "suburban" area of the island or on the South Shore or the North Shore, do not hesitate to speak with one of our broker partners. He will help you for free.
Is Montreal the best city to live in Quebec in 2018-2019?
Each year, Montreal ranks among the best cities in CANADA for the quality of life of its residents. It is definitely one of the cities where people have the greatest sense of belonging and where people are proud to live.
Montreal is a city where life is good and where different lifestyles coexist in diverse and absolutely charming neighborhoods.
In 2018 and 2019, Montreal will remain the #1 city in Quebec for those seeking a high quality of life and will remain among the most interesting cities in Quebec because of its incredible neighborhoods!