9 mars 2022,

If you are planning to buy a house or condo in Quebec, one of the first things you need to understand is closing costs.
Closing costs refer to expenses on top of the home's selling price that you will be expected to pay.
In Quebec, the average closing costs is around $10,000 but a good estimate would be about 2% to 4% of your home's selling price.
These expenses, which include notarial fees, inspection fees, taxes, and adjustment fees are generally paid upfront. Hence, you must prepare a budget for them along with your down payment.
You can avoid unpleasant surprises by being well-informed and preparing your finances before buying a house.
Speak to a reliable and experienced real estate broker from our network to compare houses and condos for sale and calculate your expenses. Just fill out a short online form, free of charge!
The closing costsfor homebuyers in 2022
As of January 2022, a single-family house in Quebec has a median price of $541,000 while the average price for a condo unit is $381,000.
A homebuyer can expect to pay for closing costs that range from $6,800 to $10,500, at an average percentage cost of 2% to 4%.
Keep in mind that these averages can vary based on the location of your property, your lender, and the amount of your mortgage.
Refer to the table below for closing costs you will be paying if you buy a house in Quebec.
Type of expense
Estimated Cost
Description
Notarial fees
$1,000 to $1,500 (depends on the details of the transaction)
Required for the drafting and registration of the deed and other legal aspects of the transaction.
Adjustment costs
$500 or more
For reimbursing the seller for any advance payments for utilities, taxes, insurance, etc.
Home inspection
$300 to $750
While this is not mandatory, it is highly-recommended.A professional home inspection will inform you of the true condition of the property you are buying.
CHMC Mortgage Loan Insurance
Mandatory for transactions with less than 20% down payment. This type of insurance protects your lender from default. It is required if you are taking out a mortgage and can be rolled over with your monthly mortgage payments. The cost is from 0.6% to 4% of the amount of your mortgage.
Certificate of Location
This may be required by your lender. It is a certificate indicating the boundary lines, buildings, and other structures on the property. It can also be provided by the seller.
Home Appraisal Fee
$500++
A professional appraisal by a qualified appraiser informs you of the market value of the property.

It is usually required by lenders to calculate the mortgage you are qualified to obtain based on an accurate property market value.

Title Insurance
$300++
While not mandatory, it can provide protection against potential title defects such as back taxes or mortgages. It can also be required by the lender.
GST/QST
The GST is 5% of the selling price.

The QST (Quebec Sales Tax)is 9.975% of the selling price.

Mandatory if you are buying a newly-built home. This is a federal tax.

The QST is a provincial tax and mandatory if you are buying a newly-built home. You could be qualified for a partial rebate.

Both do not apply if you are buying a resale property.

Land Transfer Tax (Welcome tax)
varies with the price of the property
Mandatory in Quebec. The amount is based on a sliding scale tax calculated from the property's selling price. It increases in value with the property value.
Home Insurance
varies based on the type of policy and value of the property
Not mandated by the government but required by your mortgage lender. Home insurance protects you from loss or damage due to covered risks in case you need to rebuild your home.
Aside from these expenses, a homebuyer needs to prepare a budget for other miscellaneous expenses such as:
Setting up utilities
Moving expenses
Condo fees (monthly fees paid to the condo association for the maintenance of common areas)
Mortgage prepayment penalties (if the buyerbreaks an existing mortgageto buy a new house)
By planning ahead for these expenses, you can ensure that your real estate transaction is smooth and hassle-free.
The down payment for buying a house in Quebec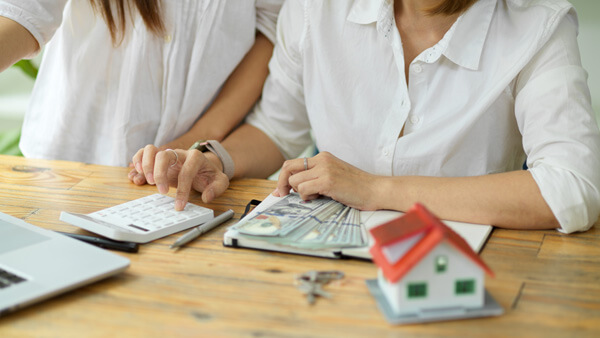 To buy a house in Quebec, you need to make a down payment on the property. You can take out a mortgage loan from a financial institution to pay for the balance of the purchase price.
Existing regulations aim to make it easier for Quebecers to pay for the down payment on a house. The minimum amount required for your down payment depends on the price of the house.
Check out the table below regarding the minimum down payment you will need foryour home purchase.
Selling price of the home
Minimum down payment required
Less than $500,000
5% of the purchase price
$500,000 to $999,999
5% for the first $500,000
10% for the excess amount
$1,000,000 and up
20% of the purchase price
The down-payment must come from your own savings or from relatives. It cannot be borrowed from your lender.
You can borrow from your Registered Retirement Savings Plan (RRSP) up to $35,000 (individual) or $70,000 (with spouse), tax-free, and repay the loan for up to 15 years. The money can be used towards the down payment for your home.
The Government of Canada also offers the First-time homebuyers Incentive as follows:
5% of the purchase price for an existing house
5 to 10% of the purchase price for a newly-built home
This incentive can be paid after 25 years or when you sell your home. It can also be paid back without prepayment penalties at any time.
Thus, if you a buying a house for $561,000, the down payment you need is as follows:
$500,000 at 5% is $25,000
$61,000 at 10% is $6,100
Total minimum down payment of $31,000
You will need mortgage loan insurance to buy a house with less than 20% down payment.
Do you need a real estate broker to buy a house in Quebec?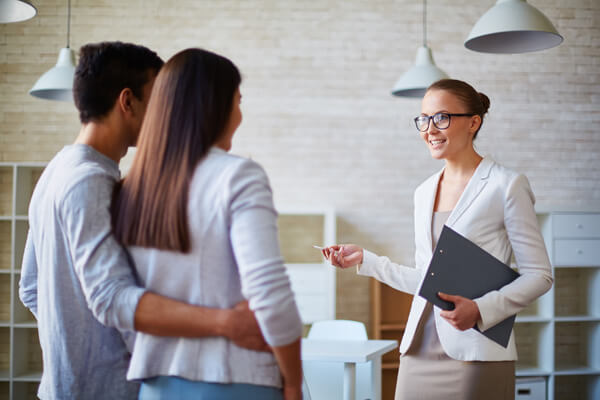 For most people buying a house, condo, or other real estate properties, it would be their biggest investment in life.
There are many aspects to be considered when making a real estate purchase, most specifically finding a property that suits your needs and budget. While it may sound simple, the reality is more complex than you can imagine, particularly in hot real estate markets like Montreal and Quebec.
A real estate broker offers professional services that aim to simplify the process and make it easier for you to complete a home purchase. It is not a legal requirement for a buyer to be represented by a broker but it is strongly advised for your own protection.
Real estate brokers are the most knowledgeable and experienced professionals in the field of real estate sales. In Quebec, brokers are licensed and must possess qualifications to practice in this field.
Every real estate broker has years of experience and expertise under his belt that can greatly benefit a property buyer. They also have a vast network of contacts related to real estate (notaries, inspectors, lenders, mortgage brokers, contractors, etc.) to facilitate the transaction.
When you hire a real estate broker, he will:
Conduct research on properties available according to your preferences
Schedule property visits
Provide valuable advice and information
Submit an offer on your behalf
Make a counter offer on your behalf
Close the transaction on your behalf
Because brokers work hand in hand with other real estate brokers and agents, they get first-hand information about property listings and can find ideal properties much faster than you can.
Buyers don't usually pay for real estate broker fees because these are paid for by the seller. Hence, there is no reason for you to give up this valuable service from a seasoned real estate professional?
Your real estate broker will guide you through every step of your real estate transaction for your safety and peace of mind.
By working with a real estate broker for buying a condo or a house, you will benefit from the protection under the Real Estate Brokerage Act.
FAQS regarding closing fees for buying a house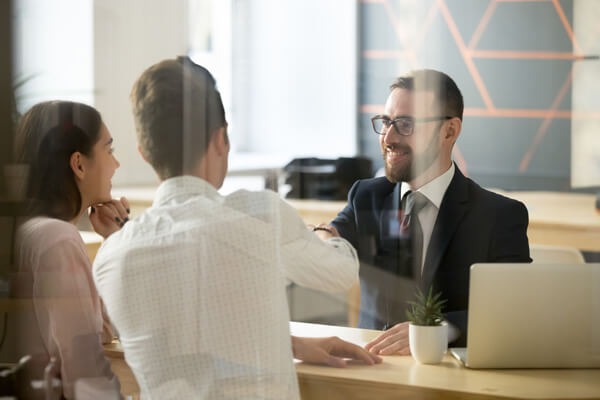 We understand that buying a house is very exciting yet scary at the same time. It is a major financial commitment that will have a huge impact on your finances for a long time.
It is to be expected that you have many questions in your mind. We have gathered some of the most important FAQS that can guide you in your planning and decision-making process.
How much do I need for my down payment?
You can pay as little as 5% down payment for a house if the selling price is not more than $500,000. This means that if the selling price is $320,000, your minimum down payment is $16,000.
Do I pay for real estate broker fees as a buyer?
No, buyers don't usually pay real estate broker fees because the seller pays for the commission. Therefore, it is to your advantage as a buyer to work with a good real estate broker to buy a house or condo in Quebec.
How can I qualify for a mortgage to buy a condo in Quebec?
To qualify for a mortgage, you need to apply with a bank or mortgage lender and get a mortgage pre-qualification. You will need to submit certain document such as your income documents to prove you are eligible for a mortgage. Once pre-approved, you will know how much you can borrow for your mortgage and start looking for the right property to buy. You can also approach a mortgage broker to assist you in finding the best mortgage.
Does a homebuyer pay GST or QST in Quebec?
In Quebec, the GST and QST are payable for newly-built homes or condos. These taxes may already be included in the selling price quoted so you should check with the seller.
If you are buying an existing house or a resale condo unit, you are not liable to pay the GST and QST unless the home has been massively renovated.
Can you get a GST or QST rebate in Quebec?
You could be eligible for a rebate in Quebec if you are buying a home for $350,000 or less with 36% on the 5% GST due or a maximum amount of $6,300. This is only available for properties costing $350,000 to $450,000. More expensive properties are not qualified for a rebate.
On the other hand, the rebate for the QST can be as much as 50% of a maximum amount of $9,975 on properties costing $200,000 to $300,000.
Should I buy title insurance?
Title insurance is usually purchased when you purchase a home but you can also buy a policy at any time while owning a house. You will pay a one-time premium for as long as you own the home but it can also be extended if your heirs inherit the property.
Although it is not mandatory, title insurance protects the homeowner from unforeseen defects in the title such as unpaid utilities or taxes or errors by your lawyer related to title risks.If you are buying a house, you should get advice from your notary regarding title insurance.
When are closing fees paid while buying a house?
Closing costs are legal and administrative costs that must be paid when buying a house. It starts with your down payment which is paid to the seller when you make an offer. These expenses are cash outlays on or after your house closes. Your lender may allow you to roll some of these costs with your mortgage such as mortgage insurance premiums but you will also pay interest on these items during the life of your loan.
What occurs during closing day of a house?
On closing day, the buyer takes possession of the property. The lender provides the mortgage funds to your lawyer who will be in charge of transferring the payment to the seller. The lawyer will register the home in your name and will provide you the deed and keys to your property.
Can a buyer cancel an offer to purchase a property?
An offer to purchase is a legal document that mentions a period of time that a seller can refuse or accept the offer. A buyer can withdraw the offer at any point before the seller has accepted.
If the seller has accepted the offer, a buyer can still withdraw the offer under certain terms and conditions indicated in the offer. For instance, most offer to purchase agreements contain a contingency regarding a mortgage approval while some stipulate a home inspection clause in which the buyer can cancel the offer if the results of the inspection are not favorable.
Why is a certificate of location important before buying a house?
A certificate of location (also known as a land survey) is a written report that informs you exactly what you are purchasing such as boundary lines and if it is located in a flood risk zone. It describes the state of the property and such a certificate is usually valid for 10 years. This document will prevent you from making the wrong assumptions such as when you are buying something much smaller than what you had imagined. It can also prevent future lawsuits such as when a neighbor asks you to demolish a structure that is encroaching on their property.
What is CMHC insurance and how much does it cost?
Canada Mortgage and Housing Corporation issues mortgage insurance to protect lenders if the down payment is less than 20%. Mortgage insurance is mandatory in such cases and the lender can agree to roll it with your mortgage payments. CMHC insurance is also known as mortgage default insurance and costs0.6% to 4% of the total amount borrowed.

Do banks require other mortgage insurance policies aside from mortgage default insurance?
Yes, many banks require mortgage insurance even though your down payment is 20%. This additional insurance coverage is different from mortgage default insurance.
Known as mortgage insurance which is issued by insurance companies or banks, coverage will pay for your mortgage in the event of a borrower's death. It protects your dependents from losing their home in case the borrower passes.
Some banks can have their own mortgage insurance products but you can also get mortgage life insurance from private insurers.Make sure to compare the cost of premiums and extent of coverage before you buy mortgage insurance for your mortgage.
Find a real estate broker for your home purchase in Quebec
Buying a house or condo in Quebec is not that easy because of financial and legal considerations. By working with a good real estate broker, you can make this process simple and quick.
Your real estate broker will be responsible for searching for your ideal property and helping you to buy your home. He can also refer you to other real estate professionals for the completion of your transaction, including home inspectors, mortgage brokers, or notaries.
As you can see, real estate brokers can help you with every aspect of your real estate purchase to make the whole experience as stress-free and convenient as possible.
Get expert advice on real estate questions and have an experience professional by your side to successfully close on your home in 2022!
Just fill out the form, free of charge, and get connected to the best real estate brokers in your area!