4 août 2017,
Buying a house is a huge investment. It doesn't matter if it is a modest one that needs fixing or recently built, it is important to get the lowdown before signing on the dotted line.
While hiring a qualified home inspector is most recommended, as a homebuyer, you should also have a general understanding of things to watch out for.
After all, you want some time to enjoy your new home before undertaking serious repairs. You also want to save enormous capital outlay you are not prepared for.
You need to look past the pretty sight and look seriously into the integrity of the home's components.
An experienced real estate agent can help you avoid problems when buying a house. You can compare real estate agents online with free real estate proposals.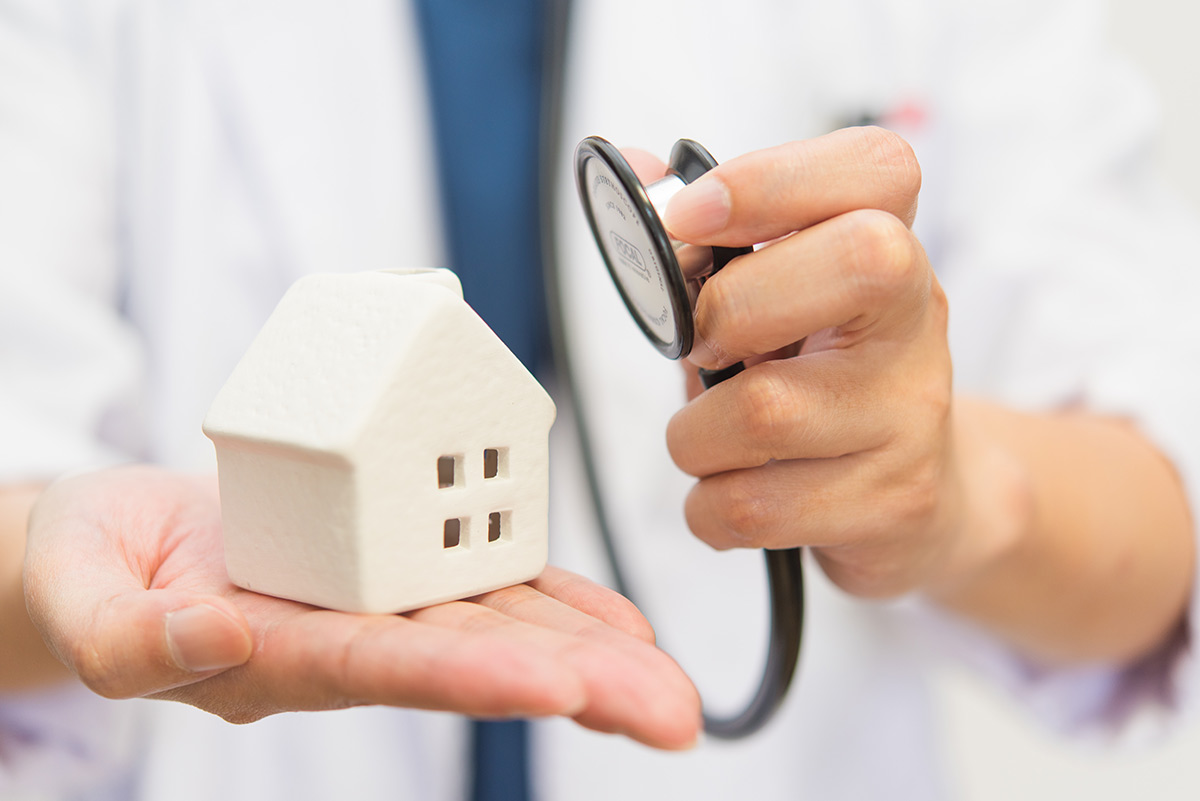 Homebuyer tips: Things Every Homebuyer Must Check Before Buying a House
It is easy to get all excited when looking at a nice property. Be warned that some defects are not obvious, especially if you don't look too carefully.
You will be paying hard-earned money for your home. The more you find out about the property before closing, the better you will be in terms of setting on the price and negotiating the deal.  For these reasons, a home inspection is CRITICAL.
As a homebuyer, it is to your best interests to arrange for a home inspection. Hidden defects are not easy to see with a visual examination.  Trained and competent home inspectors are the best professionals to see visible or hidden defects in a property.
Below are some common defects you need to be on the look-out for.
1. Water infiltration
Without question, water infiltration can seriously damage a home and cost hundreds of thousands of dollars in repairs.  In fact, some of the top hidden defects are caused by water infiltration.
Weatherproofing problems
Water can get in through the roof because of a construction defect and result in a house being poorly protected from weather conditions.
Water in basements
Mildew or water damage can be seen if there is water infiltration.  It could be due to waterproofing issues, or other problems. Water infiltration affects the structural integrity of the house and is a health risk to residents.
Poor foundation
Concrete cracks are unavoidable in the long term but if they extend beyond outside walls or into the ground, they are serious signs of water infiltration.
Grade sloping back to the house
This problem can cause cracking, settlement, foundation movement, or damp crawlspaces.  It could cause rot in walls and mold.  The cost for fixing this kind of problem can be very significant.
2. Inadequate Ventilation

A homebuyer needs to make sure that the house has good ventilation.  Without it, moisture can't escape and will cause problems.  Ceiling space under the roof must be ventilated properly for long life span.  There should be ventilation ducts that allow intense heat to escape so that interior walls remain dry.
3. Plumbing problems
Plumbing repairs can be very costly so look under the sinks for leaks. Ensure that any and all plumbing issues are addressed before buying a home.  Try flushing the toilets, check the faucets, to ensure there are no problems with the system.
4. Electrical Issues
Faulty or outdated electrical systems are very dangerous and can cause fire.  Buyers must double-check electrical wiring, including electrical panels.
5. Rotting wood
Some areas of the home can be exposed to moisture especially the bathroom and kitchen.  Wooden materials may rot over time and must be checked. Decks made of wood should also be checked.
6. Heating and Air-conditioning systems
Check the heating and air-conditioning system and watch out for defective furnace heat exchangers and boiler leaks as these can easily cost $5,000 to repair.
It is crucial to get a qualified home inspector before closing a home deal.  Buying a house is stressful and time-consuming.  The worst thing any new homeowner doesn't want to happen is to discover unexpected expenses due to defects not found before the deal was closed.
The Average Cost of Home Inspections
A home inspection in Canada can cost, on average, from $350 to $500, but the price depends on the size of the house and testing you want done (exterior and interior, air quality, mold).
Yes, you can skip a home inspection to save a few hundred dollars but this might cost you more money in the long run.
A Homebuyer's Guide to a Home Inspection
Home inspectors are not all the same so it pays to find an experienced and reliable one.  You should also ask the home inspector what is covered and what is not. Your buyer's real estate agent will be happy to refer you to a good home inspector once you find the home of your dreams.
An inspector will present to you a report listing problems discovered during the inspection, complete with photos. Ensure that these areas are included in the inspection to avoid future maintenance issues.
✓ The general interior and exterior
✓ Foundation
✓ Roof
✓ Attic
✓ Plumbing
✓ Electrical
✓ HVAC system
✓ Fireplace
✓ Basement
✓ Appliances
Extra charges may be added for the following:
✓ Asbestos
✓ Termite
✓ Mold
Home inspections don't require drilling holes into walls, prying up shingles, or fixtures.  It is advisable for the homebuyer to be present during a home inspection.
Understanding the Home Inspection Report
It is important to retain a home inspector who provides a complete written report of what's wrong, reasons for the problem, and what needs to be done to correct the problem.  It is not enough to get a checklist that says good, fair, poor, or excellent.  A home inspector must be able to answer your questions about what to do next.
How Much Does It Cost to Fix Common Issues in a Home?
It is important to pay attention to common issues in a property being considered by a homebuyer.
Be careful of homes that were not properly maintained as your new home can very easily become your worst nightmare.  Homes with electrical and plumbing issues or structural additions and renovations that were not installed professionally could cost thousands of dollars to fix.
Home inspections are not required so some people decide to forego the expense to save money.  But if you buy a home with problems you didn't know about, you'll be writing checks for 10 ten times more than what a home inspection would cost.
Below are examples of what a repair project for a newly-purchased home can cost a buyer.
Repairing the Foundation
Foundation issues are caused by shifting soil, earthquakes, water, and other situations that happen naturally. Humidity and moisture can also build up and cause mold.  A homeowner can spend from $600 to $10,000, depending on the extent of damage.  Severe damage will require replacement of the foundation.
Mold removal
Mold is found in places where there is moisture such as crawlspaces, walls, attics, etc.  You will need to remove the wall covering (stucco, wallpaper, drywall) if there is mold in walls and to replace timber.  Mold can be deadly to people with allergies. They also cause serious damage to a home.
Removing mold from walls, attic, ducts, and crawlspaces could cost you about $6,000.  If there is structural damage, mold removal could cost you up to $30,000.
Fixing a Basement
Homebuyers see a completed basement and their imagination conjures images of a den, a sports room, or an extra bedroom.  Even if you want to use it just for storage, it needs to be brought up to professional standards. If it was done DIY by the owner, you could spend up to $30,000 to make it legally habitable.
Repairing Plumbing
Plumbing issues are not something a homebuyer should take lightly.  Leaking sinks, seats that were poorly-grounded, faucets that need replacement, etc. could hide major problems that could cost a large sum of money to fix.
Licensed plumbers could charge over $200 for clogged drains, toilets that don't flush, or sink replacement. For sewer problems, you could end up forking $2,500.
Flooring Problems
Floors get damaged due to foot traffic, moved furniture, and weight.  Creaking floors or warped floors could be indicators of issues with joists or supporting structures beneath.
Minor damages can cost $100 for each joist. Extensive damage, however, can cost from $10,000 to $30,000, depending on the size of the house.
Heating and Air-Conditioning Problems
Problems with heating or air-conditioning, including water heaters, must be checked.  To replace a furnace, you could spend up to $13,000.
Furnace or air-conditioner parts for repairs can cost up to $1,000.  Parts for old units can be difficult to find and may require a new unit.
Water heaters usually last up to 15 years.  A new water heater can cost up to $1,000.
Fixing Windows
Windows lead to energy loss if they don't close properly.  If weather-stripping is old, windows may need to be replaced.
For Intact window frames, new windows could cost $500 each. For frames that have termite damage or are rotten, you could pay up to $1,000 each.
Windows and doors that don't close properly could also be an indication that the home's foundation has shifted.
Combine any two or 3 of these common problems and a homebuyer could be spending much more on a new home than he bargained for.
When buying a house in Canada, it pays to hire an experienced and qualified real estate agent to help you with:
✓ Finding the ideal property within your budget
✓ Determining the accurate value of the home
✓ Provide you with expert advice on a property
✓ Refer you to real estate professionals for extra services
A real estate agent can definitely help you to save time and money and to avoid making a bad investment.
Connect with Good Real Estate Agents in 5 Minutes
If you are seriously contemplating to buy a home in Quebec, you must find a good real estate agent to be your partner.
Considering the fact that a homebuyer does not pay for a real estate agent's fees, there is no reason for you to do it alone.
Buyers' agents steer homebuyers to ideal properties for sale in the right neighborhoods and help them to negotiate the home price.
You can compare real estate agents near you who can make your home buying experience stress-free and enjoyable.
Fill-out our short online form and receive free real estate proposals from the best real estate agents and brokers in your area.