17 février 2022,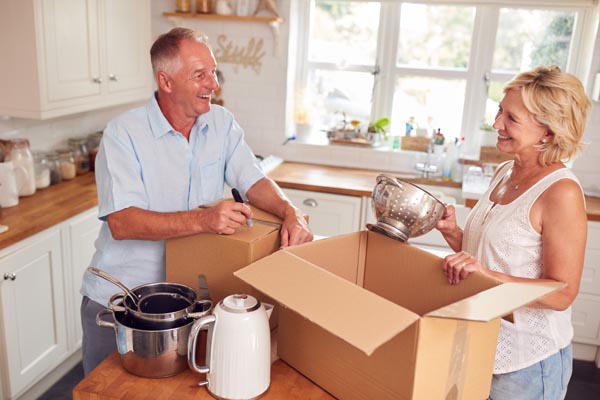 There comes a time when downsizing your home seems like an attractive option but it is usually not until retirement when the idea really takes shape.
The kids have moved out and live away from home. You want more time to travel or the house has become too big or too expensive to maintain.
A study revealed that the number 1 reason of most seniors for downsizing was to be closer to loved ones. The second biggest reason was to reduce their expenses and save money for retirement.
But sometimes, downsizing is an immediate need because of declining health or a financial crisis.
Whether you wish to free up your equity so you can enjoy its financial rewards or invest it elsewhere, downsizing is a good option. It has its pros and cons so you need to understand and weigh them carefully before moving forward.
Read on to get more tips and strategies for downsizing in Canada.
Fill out the short online form to connect with top real estate brokers near you, free of charge!
What is Downsizing and its pros and cons?
Downsizing, in its simplest definition, is selling your house and moving in to a smaller home like a condo, bungalow, or townhouse.
It means giving up extra space which you no longer need and exchanging it for something more suitable to your current lifestyle.
Managing a big house requires constant maintenance which can be expensive and difficult to do as you get older. If you are living alone or with your spouse, this can be an unnecessary burden and even impractical.
Reasons to downsize your home
Canadians have different reasons to downsize, and yours can be one of the following:
To pay off a mortgage or debt
To save money on bills (water, heating, taxes, home insurance, repairs)
To free up equity and get more money
To move to another location for personal reasons
For retirement
Downsizing offers many advantages and can help to make your retirement more comfortable and financially secure.
Whatever your reason, it is important to understand the costs related to downsizing so you can prepare your budget and plan your project carefully.
Downsizing for your retirement requires planning, time, and hard work. It involves organizing your home and your personal belongings, donating or selling some items, listing your home for sale, and moving out.
Most people choose to get professional help and advice such as from an experienced real estate broker for support.
To get started, fill out the form below and get connected to top real estate professionals in your area.
The financial benefits of downsizing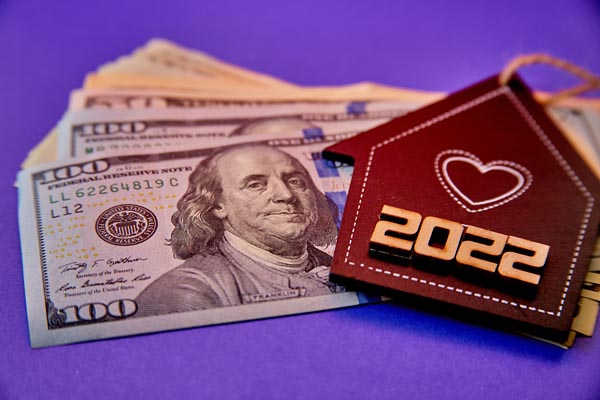 As we mentioned earlier, downsizing provides several benefits. Check out the list below to know how such a move can help in your situation.
Improved Cash Flow
Downsizing can result in a windfall because you get to access your equity. This extra cash can boost your savings and your retirement funds.
Lower monthly mortgage
If you still have an existing mortgage, a new house with a lower monthly mortgage can improve your monthly budget. Your monthly savings can help pay for your other expenses.
Lower utility bills
A smaller house means cheaper heating and energy costs. Again, the savings you make will help to improve your monthly budget.
Before you get too excited about these financial rewards, keep in mind that if you don't plan well, hidden costs and mistakes can eliminate potential savings.
It is not cheap to sell a house and you should be aware of the related costs to a home sale and purchase. Seek the help of a real estate broker to make the entire process smooth and efficient.
Things to consider when downsizing your home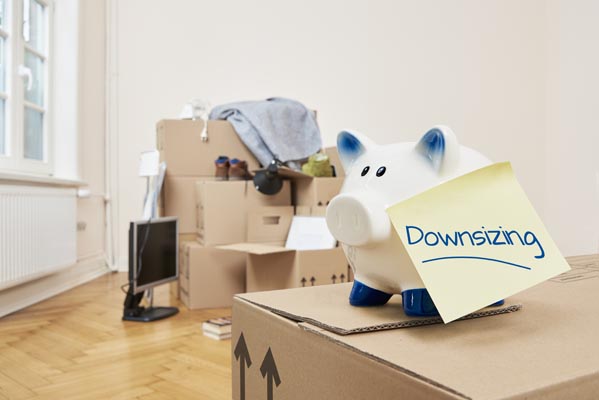 Downsizing is a major project particularly if you are in your advanced years. In fact, the whole process can seem intimidating.
You may not even have thought of some of the essentials. Cleaning, packing up your things, and selling your house are some of the most important steps you will have to make.
Along with that, you also have to find a new home to move in to. In short, you could be selling a house and buying a new one at the same time.
Repairs and Improvements
With a competitive housing market, it is most likely that you will need to fix up your home before you sell it. It can be something as simple as a fresh coat of paint or something more like new siding, roof, fence, or a major bathroom renovation.
It all depends on the condition of the home and the local housing market. Some homeowners want to get the highest possible selling price and are willing to spend on renovations for a better return on investment.
If you have a real estate broker, he can make valuable recommendations on how to prepare your home for sale.  You will need to prepare a budget for fixing up your house.
Related expenses for selling the house
Home sellers need to pay a few things for selling their property. Of course, there is the matter of the broker's commission. In Canada, it can be anywhere from 3% to 7% of the selling price. This fee is shared by the selling broker and the buyer's agent.
You will also pay for legal fees, land transfer fees, and penalties for breaking a mortgage (if it applies.)
Other incidental expenses are your moving expenses, storage fees, etc.
Related expenses to buying a house
Unless you plan on moving in with a family member or renting an apartment, you will probably buy a new house.  Depending on the type of house you decide on, you will also have to pay for certain expenses such as legal fees, down-payment and mortgage fees, home insurance, etc.
You are also advised to get a home inspection which costs about $400 to $500, depending on the type and size of the property.
As a buyer, you are not liable to pay for your real estate agent or broker's commission.
When is downsizing a good option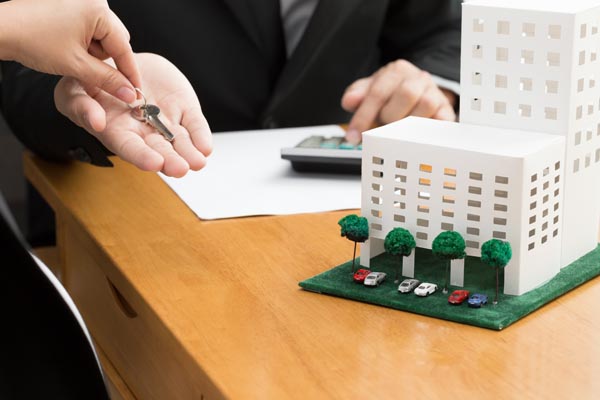 Your home, lifestyle, and financial goals are the key factors to consider when determining if downsizing is a good option for you.
There are some important questions you can ask yourself to help you decide if this is the right step for you to take.
Is the equity in your home substantial?
Do you need all the space in your home?
Are you willing and able to maintain the property?
Will you be happier and more comfortable in a smaller house?
Can you part with some or most of the personal belongings you have accumulated? It is quite likely you won't have the space to put in many of your possessions.
Are you ready to leave your community and relocate elsewhere?
Will it benefit you financially to sell your house and buy a new one?
You must also understand that there are different options available to you for downsizing. Each option has its advantages and disadvantages.
You could choose to buy a bungalow, a condo, a duplex, or make other arrangements ideal in your situation. You are the best person to make the choice.
Based on your personality, lifestyle, finances, and needs, you can learn about them and choose the right fit.
Below you will find some of these options to consider and weigh their pros and cons.
Moving to a less expensive location
If you are retired, not attached to your community, or have no family living nearby, you may want to consider moving to a less expensive city or town.
Many seniors move from the big cities like Montreal and Ottawa to suburban areas with a lower cost of living.
Whether it is just to the next town or across the country, you can save money with this option. You can research locations with less expensive houses for sale and see if the amenities appeal to you.
Moving to a condo
A condo is easier and costs less to maintain than a big house. The smaller space is easier to keep clean, too. No more shoveling snow, checking the roof, and other tedious home maintenance tasks. Many older people who find it burdensome to deal with home maintenance find condo living appealing.
Of course, a condo offers less space than a home and storage space would be limited. Some condos have green spaces, a gym, a pool, and other amenities that are also attractive.
It is important to note that buying a condo can be cheaper than buying a small house. Speak to your real estate broker and compare prices for available units in your target location.
Buying a smaller house
Selling a large home and buying a much smaller one to get extra cash and save money can be very rewarding. It does, however, entail making sacrifices especially in terms of space, comfort, and convenience. Before downsizing, make a list of what you absolutely require to ensure you are not giving up what you can't live without.
Moving to retirement communities
For many seniors who downsize, they choose to move to retirement communities. Many retirement communities are to be found across the country that offer different types of housing such as townhouses, apartments, bungalows, or private suites.
These housing options even offer perks such as parks, gyms, trails, and other appealing amenities that older crowds find attractive.
As you can see, downsizing can be a very ideal strategy for freeing up equity and accessing wealth. It is best to do your homework and get advice from professionals.
A reliable and experienced real estate broker from our network can assist you find the right option for your needs.
Just fill out the short online form on this page and receive FREE and NO-OBLIGATION quotes!
Is there an alternative to downsizing?
Let's face it – downsizing can be emotionally difficult and not everyone is excited about giving up a familiar home. For some, moving to a smaller home with less space, away from friends, in exchange for elevators and no yard can be depressing. Yet, they need to tap into equity to fund retirement, pay off debts, or for other important reasons.
If this is the case, downsizing is not the only alternative. Some retirees prefer to stay in their house.
It is important to evaluate your situation before deciding to downsize so you never regret selling your home or moving to a smaller home.
You can speak to a mortgage professional about reverse financing which will allow you to access up to 55% of your home value.  You won't need to move and you can save on some of the related expenses such as taxes, administrative fees, moving costs, etc.
If you don't have a mortgage anymore, a reverse mortgage can improve your finances and even solve the problems that made you think of downsizing.
You can speak to a good mortgage broker about your options for reverse mortgages.
FAQs about downsizing in Canada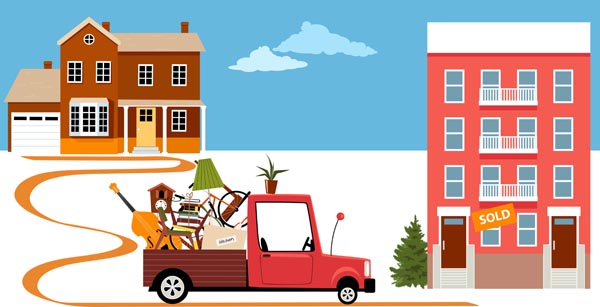 Downsizing your home is a huge move with financial and emotional impact. We know you have many questions right now so we have gathered some of the most popular FAQS to be your guide.
How do you downsize your home?
You start by making an honest assessment of your situation. List down your goals and priorities, make an inventory of your belongings and identify what you want to keep and what you can dispose of. Find out how much cash you will get from your equity and deduct potential expenses. Find a good real estate broker to work with and plan your project well. Explore where you want to move if you sell your house and consider the pros and cons.
How long does it take to downsize a house?
Rushing the process can lead to mistakes and regrets.  If possible, take the time to plan well. Many experts say that downsizing takes a minimum of 6 months to 1 year to do. Keep in mind that preparing your house for sale will require time, too, and getting ready to move out will also entail work you just can't do over a weekend.
What can be one of the most difficult about downsizing?
For many people, one of the most difficult things to do is letting go of precious possessions accumulated over time. Downsizing means you have to part with as much as 70% of your belongings, including mementos that took many years to accumulate. You will need to donate many of your possessions or sell them.
Who are some of the experts that can help with downsizing a home?
Fortunately, there are several experts that have made it their career to help people who want to downsize their homes. Some of these experts are real estate brokers, mortgage brokers, moving companies, cleaning companies, renovation contractors, and financial advisors.
You can do all the work yourself but it will take longer and stress you out unnecessarily. Don't hesitate to reach out to them and ask for their help to make the process as stress-free and successful for you. These professionals offer a wide variety of services that can be tailored to your needs.
What should I pay attention to about selling a house to downsize?
Selling a house is a complicated and time-consuming process. It is important for you to understand about related expenses, capital gains tax. This ensures you know exactly how much you will benefit financially from downsizing and help you prepare your budget.
Can I sell the house without a broker to save on commission?
Yes, you can sell your house without a broker to save on commission. However, you must understand that selling it yourself will require a lot of your time and effort. If you don't have experience in real estate sales, you may not be very effective in marketing your house and could put it on the market far longer than necessary. Also, most buyers are represented by brokers or agents. If you don't offer a commission, many potential buyers may not get to see your property.
Find top real estate brokers for selling your house to downsize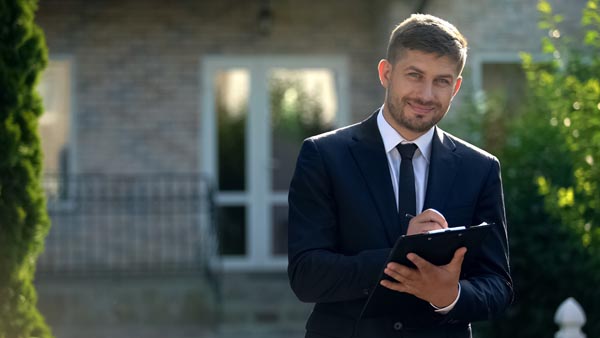 Are you ready to consider selling your house to downsize and reap financial benefits from your equity?
Our partner real estate brokers will be happy to offer you their assistance and valuable advice from start to finish.  They can assist you with selling your house and buying a smaller home.
Brokers will take the time to understand your needs and goals to help you find the right property that suits your budget and sell your house for the best price.
Having an experienced real estate broker by your side will ensure that downsizing is as smooth and stress-free as possible.
To get started with planning this project, just fill out the form on this page to get FREE and NO-OBLIGATION quotes.