18 août 2017,
You will hear people talk about a real estate agent or broker in the same breath. Unfortunately, many of us think the two are the same so we use both terms similarly. In fact, although they may have some similar roles, they are also distinctly different.
If you are about to buy a house or maybe sell a property, it is important for you to understand the two.
For the sake of simplicity, a real estate agent can also be called a real estate salesperson. Most of them are employed by a real estate broker in a registered real estate brokerage.  Agents act as intermediaries between people selling a property and those who want to buy real estate.
In contrast, a real estate broker is a manager of a brokerage firm who supervises real estate agents.  Brokers are given broker's licenses by provincial real estate associations when they have completed additional training for their added responsibilities.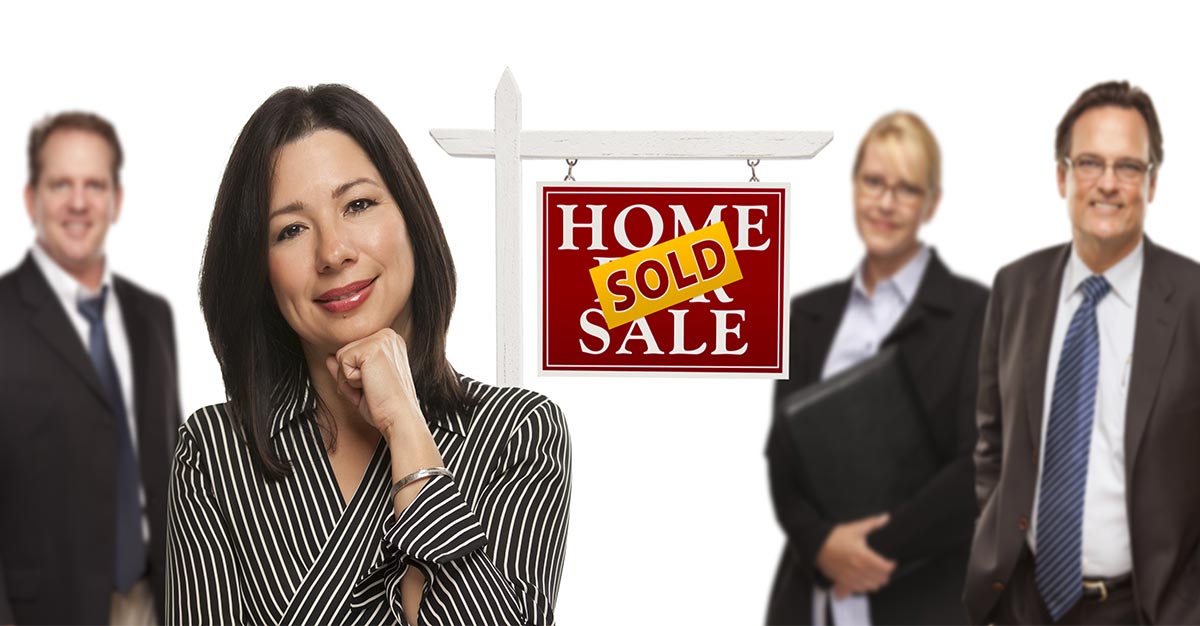 How to Find the best Real Estate Agent or Broker
Once you have decided to buy or sell a property, your project will start by finding the right real estate agent or broker.
While it can be confusing to pick one from sources such as acquaintances, neighbors, or relatives, it is easy enough when you have criteria to base your choice upon.
When you Compare Real Estate Agents online, you receive free proposals from different agents and brokers specializing in your area.
Understanding the Role of Real Estate Agents Vs. Brokers
When you are about to make a decision as important as buying or selling a property, you want to make sure that you have a fully qualified and licensed person working for you.
Real estate brokers are considered to be of higher rank than real estate agents and they have more experience. They can work independently or be part of a real estate agency.
Real estate agents, on the other hand, are required to work under a brokerage.
Surely, you have many questions starting with whether it is better to hire a real estate agent or a broker.
Training and Licensure of Real Estate Agents and Brokers
To enter the field of real estate as an agent or broker, an individual needs to have certain qualifications.
Real estate licenses, for instance in Ontario, are regulated by RECO, or the Real Estate Council of Ontario.  Aspiring professionals need to take required courses to obtain a license and to pass written exam.  Some of the courses are specific to Ontario real estate law and practices.
Continuous training to be qualified as a real estate agent
After obtaining their basic license, real estate agents are required to complete other courses within 2 years to keep their license. As you can see, real estate agents train very hard to be qualified to perform their function in the real estate industry.  They are expected to know the ins and outs of the real estate market and to be able to provide insightful and good advice to their clients.
Real estate agents work under the supervision of a real estate broker and are knowledgeable in assisting with the sale or purchase of real estate properties.  They get compensated from commissions earned after the successful completion of a real estate transaction.
The Role of a Real Estate Broker
Brokers can work under a group of real estate brokers or independently.  In other words, they are the bosses in real estate.
Before an agent can become a broker, they need to undergo further training as required in their city or region.  Generally, a real estate agent needs to have practiced as a licensed agent for 2 years before applying to become a broker.
Many real estate agents start out as agents and eventually open their own brokerage.
In summary, real estate agents work under a real estate broker.  All fees from a transaction are paid through the broker.  Only brokers can pay real estate commissions and sign listing agreements with a seller.  The real estate agent you are dealing with will be connected, definitely, to a real estate broker.
Not all brokers or assistant brokers are managers; some also work under a brokerage. Whether you hire a broker or a real estate agent, the commission rate will be the same. The only difference is that brokers have more real estate education and experience and can work independently.
Finding the right representative to sell or buy a house
Now that you know the difference between a real estate agent and a broker, you'll surely want to know how to find the right representative to buy or sell a house.
The easiest mistake any home seller or buyer can do is to get a real estate agent just because he is a friend, a relative, or someone they know.
In fact, it can be hard to deal with a close friend or relative when buying or selling a house. Because the deal involves a lot of money, it can get pretty stressful. It is much easier to be frank and direct with a professional than with someone with whom you have a personal relationship.
7 Great Reasons You Need a Good Real Estate Professional
You don't know everything about real estate law or practices so you need someone who does.
You need information about the market and local trends to make decisions. Agents can hand you information you need about listings, comparable sales, and help you price your property based correctly.
Agents have a vast network and can network with other professionals for fast results.
They are experienced in what works when it comes to selling a property and can get buyers through the door.
They can properly advertise the property, entertain buyers, act as a buffer between to save time and stress.
Agents have the negotiating skills and expertise to get the best price.
They can deal with any complications from start to finish.
The best method for finding the right representative is to compare real estate agents. You can receive multiple free real estate proposals from various brokers and agents when you fill-out our short online form.
Signing up with a Real Estate Agency- How it works
As a home seller, you will need a real estate agent and a real estate agency or brokerage to list your property on MLS.
Listing agreements between sellers and real estate brokers creates a fiduciary relationship between the two, with the seller being the principal while the broker is the agent. The broker will have salespeople in his employ that will be working to find buyers for the property.
Once you sign a listing agreement, the broker will do all that is necessary to market and sell the property using the right advertising materials and channels.
There are several types of listing agreements, as follows:
1. Exclusive Listings
This type of listing gives exclusive rights to the broker and the agents under the agency to represent the seller. The broker is paid a commission even if the seller can eventually find a buyer on his own efforts.
Exclusive listing agreements vary in length, depending on the market.  For hot markets like Vancouver and Toronto, they can be shorter while agreements in slower markets can be as long as 6 months to 1 year.
2. Non-Exclusive Listings
In a non-exclusive listing, the property is posted on the MLS system and other agents can bring buyers to the property. This type of agreement gives more exposure to a property and is the more common type of listing in Canada.
If your property is listed with a broker, it is more difficult to cancel the listing to hire another broker.  You will need to wait for the listing to expire, unless you change your mind about selling the property.
It is important to understand the terms and conditions of a listing agreement, particularly the commission clause and cancellation clause, when you sign with an agency to represent you.
Real Estate Commissions Get Sliced in Different Ways
An important clause in a real estate contract is the commission. A real estate contract should specify who will pay the commission and how much it is.
For example, the real estate contract should say that the home seller will pay the commission of 5% of the total selling price upon the successful completion of the sale.
Who gets the real estate commission?
In truth, the commission doesn't all go to the selling agent or the broker.  Of the 5%, the selling agent gets a share of the commission and part of it also goes to the brokerage. The buyer's real estate agent also gets a share of the commission, which could be equal to or less than the selling agent's fee.
In Canada, there is no fixed commission rate but it is usually a fixed percentage of the selling price. The percentage can also vary, depending on the area.
You can get a better understanding of how real estate commissions work and how much it costs to hire a real estate agent in Canada.
Cancelling a Listing Agreement with a Broker
Listing agreements with a brokerage are legally binding. Like any contract, it is important that you understand all that it entails before you sign on the dotted line.
In life, changes in our circumstances can happen. Some sellers change their minds about selling a property for one reason or another. In such cases, how can a seller cancel a listing agreement with a broker?
It is important that you know that the listing agreement is with the agency and not the individual acting as your agent. You must be honest and inform the broker that you no longer wish to sell.
Nobody can force you to sell your house. The broker can agree to put your listing on hold, meaning, they will stop marketing the property until the listing expires. However, you cannot re-list the property with another broker for the remainder of the listing period.
Selling the property after suspension or cancellation of a listing
Even if the listing is suspended, you are still bound by the terms of your listing agreement. If you find your own buyer during this period, you can be legally required to pay commission to the brokerage.
Suspending a listing is possible for other reasons such as when you want to stop marketing the property temporarily because of illness.
A brokerage is not obligated to cancel a listing but depending on circumstances, a broker may agree to a cancellation. If a listing is cancelled, you are freed from any obligation with the brokerage.  There will be a holdover period when you cannot sell your property or re-list with another broker.  If you sell the property privately during the term of the contract or even during the holdover period, you can be liable to pay the commission.
Consequences of Opting for Discount Real Estate Services
New regulations now give customers more options when it comes to obtaining real estate services.  Nowadays, consumers can choose not to sign up for complete real estate services with an agent or broker to avoid paying commission fees. Instead, the consumer can choose to get packages for MLS listing and other selected services from discount agencies.
Can you really save money by not hiring a real estate agent and just pay for MLS listing?
There are home sellers who feel they are savvy enough to sell their own house. In such cases, they don't want to get an agent to handle the sale.
Examples of Discount Real Estate Packages
Flat fee agencies
These agencies simply charge a flat fee for listing the property on the MLS. The seller will need to entertain inquiries, organize open houses, negotiate with potential buyers, and handle the closing. Should a buyer have a real estate agent, the seller will still need to pay the buyer's agent a commission rate.
With this kind of arrangement, a seller reduces the commission rate at least by 50% but will have to do all the work.  It is also important to consider if listing on the MLS alone will get enough offers on the table.
Small Percentage Fees
There are also discount agencies that only charge a small percentage fee of the selling price (from 1% to 2%). The big question here is when a buyer has a real estate agent that will need to be paid a commission. It can get really muddy, and may even be a deal breaker because the agent will no longer pursue the sale with his buyer.
Small percentage fees-based agencies will offer limited assistance regarding selling a property.
It is easy enough to find discount agencies in Canada. Before you decide to save on commission costs and forego the services of a real estate agent, you must think very hard.
Statistics show that over 85% of home buyers prefer to work with a real estate agent which may explain why For Sale by Owner properties take on average much longer to sell.
For Sale by Owner Route is Never Easy
FSBO is never easy. Sellers will need to do all or most of the heavy lifting.  And a simple check of real estate sales in Canada will show that they account for only a small percentage of home sales nationwide.
When deciding how you want to handle the sale of your property, ask yourself if you can really take the risk if your house doesn't sell.
Work with the best Real Estate Agent to Buy or Sell a House
With so much at stake with your home sale or purchase, we know you want to work with the best real estate agent.
For this reason, we have made it easy for you to find the right person by comparing real estate agents based on important criteria: knowledge, experience, commission, personality.
We know you need a real estate agent who is familiar with your neighborhood and can provide the best marketing strategy for your property.
When you fill-out our online request form, we contact the most qualified agents specializing in your area. These agents prepare their real estate proposals for you to compare and choose from.
Why compare real estate agents?
✓ Connect with qualified and experienced real estate professionals
✓ Fast, free, and no obligation
✓ Very convenient and easy process
✓ With hundreds of satisfied users
✓ Vast network of reputable agents and brokers to choose from
Ensure the success of your real estate transaction with Compare Real Estate Agents. We can help you find the most qualified salesperson to sell your home for the best price.